I-League
I-League 2017-18 Aizawl FC's Paulo Menezes: It is about time that referees answer questions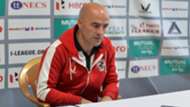 Aizawl FC's 1-1 draw at home to Mohun Bagan in a 2017-18 I-League game led Paulo Menezes to question the intent of referee Senthil Nathan.

"Of course, it is not a fair result. I don't know what's (going) on with the referees. Now it's not about stopping attacks, counter-attacks or pushing our team back into our box, now it is penalties! Maybe, it is a penalty. From where I was, I cannot tell for sure. But, if he gave this to Mohun Bagan, we ought to get two more before that", ruing a clear handball committed by Arijit Bagui in his own box in the 70th minute.

Asked if the referee was to blame for the dropped points - a first for Aizawl FC at home against Mohun Bagan in three seasons, the Portuguese replied, " Ask him (the referee). I don't know. If you have two coaches coming here after the game and answering questions, then it is about time that the referee comes and answers questions."

"I don't like to criticise anyone and referees are also human. They are alone and the fans, if they are against him, are in the thousands sometimes and it is not fair for the referees. But the people see what I see."

Skipper Alfred Jaryan was shown a direct red in the 90th minute but Menezes opined, "Alfred told me that he did not even touch the guy. If at all (he did), that was not intentional. But today, we had a yellow card (Yugo Kobayashi) within thirty seconds! Amazing! I have never seen something like this in my life and 24 years in football."

"It is difficult, it's the truth but you cannot give up. It is a short league and one team slips up, you have a chance. There can't be any excuses, we have to compete nonetheless", he expressed on being asked if the title-race is indeed over for the Reds.

The coach revealed that Masih Saighani, Andrei Ionescu and Alfred Jaryan will be the only three foreigners who would travel to play Zob Ahan in the 2018 AFC Champions League preliminary qualification round on 30th January. "Kareem (Omolaja) has a long-term injury anyways and we will think about replacing him but we have to remember that we have a limited budget. We can't just replace Willis Plaza like East Bengal did suddenly and like Mohun Bagan did with their foreign striker. But we will see", he added.

Meanwhile, Sankar Lal Chakraborty, in his fourth game in-charge at Mohun Bagan was a happy man, doing something which his predecessor Sanjoy Sen couldn't - win a point back from Aizawl.

"Somehow, this is the first time Mohun Bagan have got a point. Last two years, we couldn't. A goal down, a quick comeback, that means there is a lot of positives to take out but still, I am happy. Lucky to get off with at least one point. This eluded us last two seasons. Maybe this will boost up our campaign in the coming days."

On Jaryan's red card, he commented, "The foul itself was direct and very dangerous. Yellow or red, it depends upon the referee."

Chakraborty added, "(Aser) Dipanda's substitution weakened our attack but am happy with Akram's (Moghrabi) performance. Aizawl played excellently."

"There is still a chance. In the past, we led by eight-nine points at this stage of the season but we failed to win. We won a point here and there is still a long way to go", he concluded relaying his thoughts on Bagan's chance for silverware.