Euro 2016
I haven't got time to change Balotelli, admits Italy boss Conte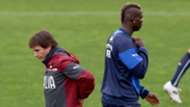 Italy coach Antonio Conte insists he doesn't have the time to change Mario Balotelli and believes "great coaches" have failed to get the best out of Liverpool striker.

After missing out on Conte's first two squads, Balotelli was called-up for Italy's fixtures against Albania and Croatia, but the 24-year-old withdrew due to groin and hamstring injuries.

Balotelli has faced criticism after struggling to make an impact since his £16 million move to Anfield from AC Milan, scoring just twice in 14 appearances this term.

"I'm not so arrogant as to claim that I'm different from the great coaches, but the past tells us that they failed to change Balotelli," he told Rai Sport.

"It'll be up to the player, but I don't have much time and I need certain things."