A-League
'I don't have any options' - Honda still without a club for next season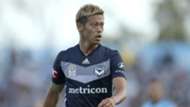 Departing Melbourne Victory marquee Keisuke Honda has admitted he still isn't sure where he will be playing his football next season.
The 32-year-old completed the A-League season after Victory were belted 6-1 by Sydney FC in the semi-final and will depart Australia following Wednesday's Asian Champions League dead rubber against Sanfrecce Hiroshima and the club's Victory medal awards night on May 25.
Honda revealed he was still looking for a club next campaign with the view of playing for at least one more season before the 2020 Olympics in Tokyo.
"I've been thinking. I'm looking for a great opportunity to play for next season," Honda said.
"But so far, I don't have any options. So we will see."
It's likely Honda will have to find a club that isn't too far from Cambodia, with his role as the coach of their national team expected to continue.
The Japanese midfielder was complimentary of his time in the Australian domestic league, explaining that coaches and players started to use tactics to shut his game down.
"Football is like this. All teams and players were getting an understanding about me, little by little," Honda said.
"And the managers as well. So they have learned how to stop me. I haven't had space and time every game.
"I felt the A-League is not so easy.
"I want to see (Muscat) in a positive way. He did a great job as well.
"If we (want to) say negative things, we can find anything, right?
"I played some great games and I played some bad games. Both are a really great experience for me. And I will change from next season as well again, for Olympics 2020."