'I didn't see it' - Wenger's familiar reaction to controversial Alexis goal
Arsene Wenger returned to a time-honoured response when asked about Alexis Sanchez's controversial opener in the 2-0 Premier League win over Hull City.
Sanchez bundled home in the 34th minute at Emirates Stadium but replays clearly showed he knocked the ball into the net with his right hand when it came back off Hull goalkeeper Eldin Jakupoviuc.
Hull boss Marco Silva later confirmed referee Mark Clattenburg had apologised to his players before the start of the second half, having reviewed the incident at the interval.
Wenger was in the stands once more as he concluded a four-match touchline ban and – not for the first time in his illustrious career – a key incident escaped his notice from that vantage point.
Asked whether his team had been lucky, Wenger told Sky Sports: "Maybe, I'm sorry for that [the handball decision] but I cannot influence that you know.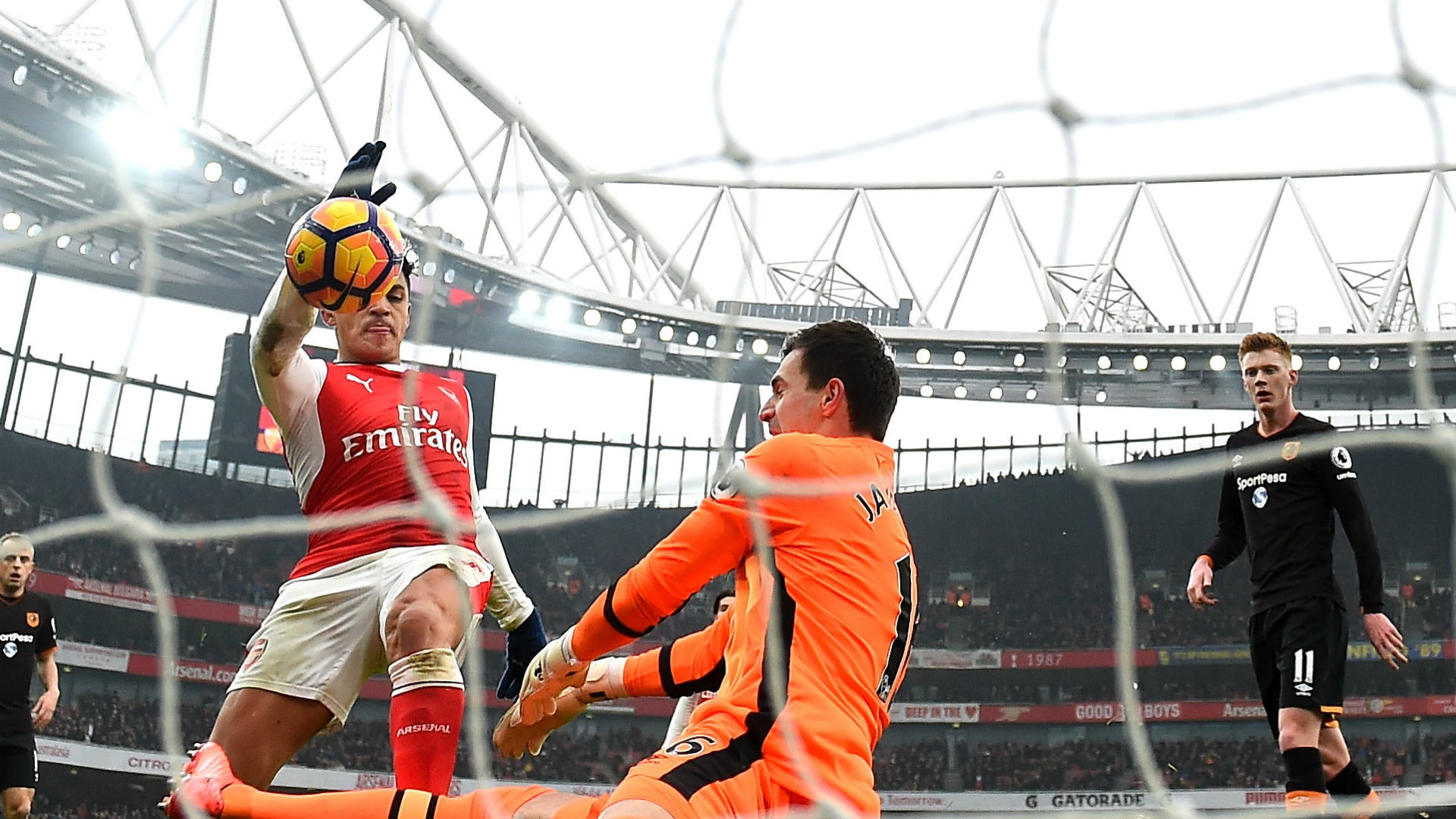 "I didn't see it as well, from the stands."
When his view was not obscured, Wenger endured a patchy display and mounting tension was only released in stoppage time.
Sanchez converted from the penalty spot after Sam Clucas blocked a header from Lucas Perez on the line with his elbow to earn a red card.
Nevertheless, the Arsenal boss was pleased to see his side battle through and return to third in the table following damaging back-to-back defeats against Watford and Chelsea.
"I felt we were resilient, focused," he said.
"We played a little bit nervous. You could see our crowd was, of course, nervous.
"It was not easy against a good side. Until we scored the second goal we were under threat for them to come back.
Robertson: Clattenburg apologised for handball goal
"I have lived long enough at this club to know that when you lose two games there is an edgy atmosphere. You have a heavy week behind you but as a player you have to cope with that.
"Our job is not to focus too much on what is said and focus on what we are responsible for - the performance on the pitch.
"Of course when we do not win we feel bad. That is why it is so dangerous to lose two games on the trot."