Young Africans
CAF Conderation Cup Predicted Line Up: Yanga - Welayta Dicha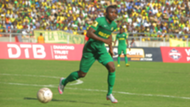 Yanga will welcome Ethiopia's Wolayta Dicha in the knock-out round of the CAF Confederation Cup first leg tie on Saturday.
The return leg will be played ten days later, and the winner of the two legs will book a place in the group stage of the competition.
The Jangwani Boys missed the chance to make it to the group stage of the CAF Champions League this season after being knocked out by Botswana's Township Rollers.
Ahead of the game with Dicha, Yanga will miss some of its key players through suspension. Obrey Chirwa, Pappy Tshishimbi, Kelvin Yondani and Juma Said, will all be watching the game from the stands. This will definitely cause a selection nightmare for Zambian boss, George Lwandamina.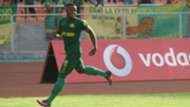 Goal looks back at the Jangwani Boys current squad and predicts how they could line-up on Saturday.  
---
Goalkeeper
---
Youthe Rostand
There are only two fit goalkeepers, Youthe Rostand and Ramadhan Kabwili. Rostand is experienced and Lwandamina will comfortably pick him over Kabwili in the first leg tie.
---
Defense
---
In the defensive area there is some sort of squad depth, although it lacks quality should at least give Lwandamina some options and decisions to make although the absence of Kelvin Yondani will be a big blow.
Hassan Kessy
After missing the past two games, Lwandamina could restore the right back to replace Juma Abdul. This is because Kessy has been in good form recently and he did not feature in the past two games due to suspension.
Gadiel Michael
It remains to be seen, but Gadiel Michael will get a nod ahead of Mwinyi Hajji in the left full-back. Michael is the liveliest player when it comes to taking the team forward compared to Mwinyi who is strong but does not offer much in attack.
Since his arrival from Azam prior to this season, he has been featured nonstop in both Yanga and the National team.
Vincent Andrew
He returned from injury and featured in the last two games and was in good form for sure. No doubt he will be key in the central defensive area due to the absence of his partner Kelvin Yondani. 
Nadir Haroub
The veteran defender and skipper of the side, recently, was out of favor but he will be restored in the starting line-up to partner with Andrew in order to defend against Dicha.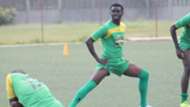 ---
Midfield
---
The most intriguing selection decision for Lwandamina to make arguably comes at the central midfielder positions, where the absence of Papy Tshishimbi and Juma Said who are both ineligible to play in this encounter after picking up second yellow card in the last game against Township Rollers.
Another option in that area is Thaban Kamusoko who returns in action after long absence due to a knee injury. However, since his return he has featured in just two games and he seems to have not reached match fitness and will sit out for this clash. 
His fitness could also be the reason Lwandamina left him out when they played Singida United last Sunday, and I don't see him starting this game.
Still it remains to be seen, but by looking at the current squad you can see that Lwandamina will go with Maka Edward and Raphael Daud in the middle of the park.
Maka Edward
The teenager who was promoted from Yanga's academy last season, has grown from a young and matured this season after featuring in several important matches and I think this will be another chance for him to show his undeniable talent.
Raphael Daud
The out of favor midfielder, joined Yanga this season from Mbeya City. Started life under Lwandamina pretty well but lost his starting status as the season picked up pace. But this will be a great opportunity for him to come back into the starting line-up and impress.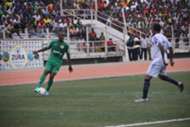 ---
Forwards
---
Chirwa's suspension is Lwandamina's biggest headache heading to the tie, Chirwa who is the team's top scorer is a biggest blow for the Jangwani Boys but Lwandamina could rush Ngoma into the starting line-up even if he is not fit enough.
Donald Ngoma
Ngoma was sidelined due to a back injury since October last year and he is stepping up his recovery. He resumed training since last week but he was left out of the squad that faced Singida United on Sunday.
Actually, this will be the first match for Zimbabwean after a five months layoff, but it is not a good kind of match for him to be making a return.
Yusuph Mhilu
The young star will hope to have earned himself a starting spot with his impressive performances in the last three matches. He scored the opening goal when Yanga were knocked out by Singida United through penalty shoot-out in the Federation Cup.
Pius Biswita
He has been in good form since he signed for Yanga from Mbao prior to this season. As usual he will be deployed behind the striker.
Ibrahim Ajib
Lwandamina could place him in the left side of the pitch to assist Ngoma and Buswita. He is very good in the process of creating opportunities for other players to score and even to score for himself.
And this is how they will lineup