Ross Barkley
Barkley not a kid any more and must impress against Manchester United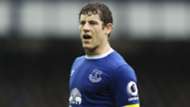 ---
COMMENT
---
Ross Barkley – one of the most talked-about English talents of his generation – is the topic of discussion once again. It appears everyone's got something to say whether that's about his ineffectiveness in the Merseyside derby, about how he's lost his way in the England set-up or about what he needs to do to realise his potential on a regular basis.
Barkley left less of a stamp on the derby on Saturday than he did on Dejan Lovren's leg. The Liverpool defender felt the full force of Barkley's studs after the Everton man lost control of the ball in the first half and sought to retrieve it.
That was one of the 28 occasions on which Barkley lost possession during the game at Anfield. Everton were delivered a humbling in front of a wide audience and Barkley produced what was probably his worst performance of the season to date.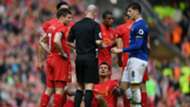 In truth he has blown hot and cold in the big matches; he's done well against Tottenham and Man City – against whom he provided two assists in January – but the derby was the latest game against illustrious opponents without significant input from Barkley.
Such inconsistency might well be expected in a younger player and that is the manner in which Barkley is still discussed. The fact of the matter is that he's turning 24 this year and should be in the prime of his career.
That means making an impression when the heat is on – starting with Manchester United tonight when Everton need a performance. Their derby defeat probably led to rash conclusions being drawn on their capabilities and they must bounce back.
Everton have been plugging away quite impressively since the start of 2017 with only Spurs and Liverpool able to beat them. Ronald Koeman's side had been one of the league's most consistent in the calendar year up to last Saturday but a lot of that hard work was done away from the limelight to an extent.
And to anyone merely glimpsing the news and not watching on a regular basis it might appear that Barkley is having a bit of a nightmare of a season.
A high-profile omission against Manchester City in October – after a run of 55 consecutive Premier League appearances – brought the realisation that Koeman expected higher standards both in terms of aggression and output. His form during the opening stages of the campaign was indeed indifferent.
In his last seven call-ups for England, Barkley hasn't played a single minute. That embarrassing statistic was brought up last week after Gareth Southgate's team saw off Lithuania in World Cup qualifying. There would appear to be no place for him in the current selection whether that's to do with Barkley's style or application.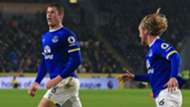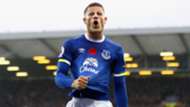 But Barkley has been productive with four goals and seven assists and ranks highly among his Premier League peers in attacking midfield. The defeats to Spurs and Liverpool aside, he has been key in his club's good run since the turn of the year – a sequence that includes seven wins and two draws.
He has thrived alongside fellow academy graduate Tom Davies and his form has again led to speculation that he might transfer to a bigger club. His contract expires in 2018 and Everton might well be fretful about losing him for nothing.
Dyche: I wouldn't get Arsenal job
Everton may have little in the way to play for this season aside from a Europa League place but the time has come for Barkley to stand out. When the focus is on him he hasn't delivered.
No one is saying he's Lionel Messi but the Argentine had earned two Ballons d'Or by the time he was Barkley's age. He's not a prospect any more. He should be the real deal no matter who's the opposition. Old Trafford is his perfect opportunity to respond to his critics.