NPFL
Henry Abiodun ends six-year union with Sunshine Stars, ODSFA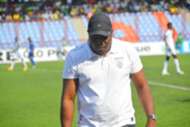 Henry Abiodun has announced his departure from Sunshine Stars after ending his six-year union with the Ondo State Football Agency.
Abiodun has been the interim coach of the side since the dismissal of erstwhile manager Duke Udi during the 2018 season.
The tactician joined the Ondo State outfit in November 2012 as a technical instructor and has served in several roles, including as coach of Sunshine Stars and technical director of both the team and ODSFA.
His current contract ends in December but he chose to part ways with the Nigeria Professional Football League outfit with two months left on his deal.
According to the 50-year-old, the decision came in light of the agency's abrupt dissolution of the players, coaches and backroom staff.
"After due consideration, I decided to bow out from the Ondo State football Agency job as Sunshine Stars and the agency's technical director," Abiodun told Goal.
"My contract ends in December but after the dissolution of the players, coaches and backroom staff, it only makes sense that I move forward.
"I am now a free agent at least for now. I have made my decision known to the chairman today [Saturday]. I now wait for my entitlements to be paid as quickly as possible."
"I thank and recognize all the chairmen I have worked with in the job. Segun Adagunodo, Akin Akinbobola, Ola Mafo, Dapo Ajibade, Otunba Elegbeleye, Tajudeen Akinyemi, Tunde Ogunja, Honourable Saka and my mentor Mike Idoko.
"The Sunshine Stars FC fans and the Ondo State government, the media, chairman of referees, chairman of coaches association, the Ondo State FA chairman and everyone that has contributed to my growth one way or the other in the offices I occupied during the six years.
"I appreciate the years and opportunities. God bless Ondo State!"
This season, Abiodun led Sunshine Stars to the Round of 16 of the Federation Cup.