World Cup
Hector Cuper positive of Egypt's chances at the World Cup despite Salah's injury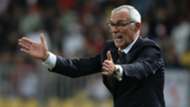 Mohamed Salah's injury will not affect Egypt's enthusiasm and ambitions at the 2018 Fifa World Cup in Russia, says coach Hector Cuper.
A major concern for the north African team is Salah who is still nursing a dislocated shoulder with less than two weeks to their World Cup opener against Uruguay at the Ekaterinburg Arena on June 15.
The 25-year-old suffered the setback in Liverpool's Uefa Champions League defeat to Real Madrid and he has been ruled out for three weeks.
However, the 62-year-old, with hopes of avoiding further injury crisis, is optimistic that his squad can have a remarkable outing in Russia.
"I still maintain the same hopes and ambitions and I will not lose that. Injuries happen and are possible in football and that's why I stress on the importance of team work despite the significance of Salah to the team," Cuper was quoted as saying by KingFut.
"Our enthusiasm and ambitions are the same, we are confident in our ability to overcome any difficulty. However, there are other aspects, that might not be visible to the fans and media, where we are making progress in.
"The most important thing for me now is to end each training session with no injuries. We are trying to take care of each detail even if it is a small one with attention. I hope that we don't face any unpleasant event in the coming days, the slightest error is unforgivable right now."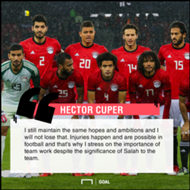 Egypt's last two friendly matches - against Kuwait and Colombia - have ended in stalemates.
"We are trying to find the balance between defence and attack before heading to Russia and we have a strong desire and will to achieve that," he added.
The Pharaohs have not scored more than one goal in a match since their 2-1 victory over Congo on October 8, 2017 – the win that sealed their World Cup spot.
Quizzed about the issue, the Argentine gaffer said: "This has happened indeed, we scored more than one. But the most important thing for me is to win, that's the school I belong to, which is doing whatever it takes to achieve the victory. As a coach I give the priority to avoiding defensive mistakes and this might be a different philosophy to that of Egyptians.
"All in all, you won't find me working on anything except reaching the final objectives that are required from me and which the contract agreed between me and the Egyptian FA cites. The contract terms contained reaching the Africa Cup of Nations and the World Cup, not the number of goals we should score."