He fed his lover to dogs: but murderer Bruno is back with a new club
Last Updated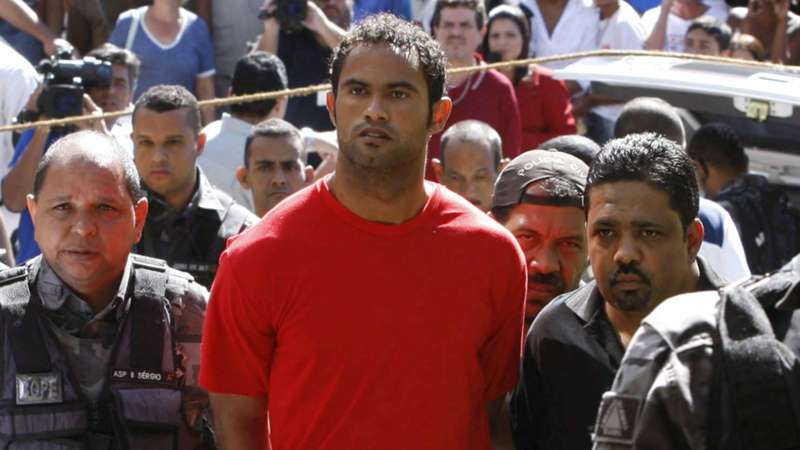 Getty
---
COMMENT
---
Less than seven years in prison was scant punishment for a grisly crime that shocked Brazilian society. Now disgraced goalkeeper Bruno is back out on the streets and, seemingly free of remorse for the pain he caused, has already found a new club in which to continue his tainted career.
Back in 2010, the world appeared to be firmly at the feet of the Flamengo No. 1. Coming into his prime at 26, he was already a folk hero with the Rio de Janeiro club for his stunning performances and widely tipped to succeed Julio Cesar as Brazil's shot-stopper for the next decade and beyond.
Even clubs of Barcelona's stature had registered their interest in Bruno, although Flamengo were not prepared to release him without a fight. Having seen efforts by gargantuan investment group MSI to send him to Europe fail, they swooped in and purchased 90 percent of his playing rights, ending the third-party ownership so prevalent in the game across the Atlantic Ocean.
Xabi Alono announced retirement
In June of that year, however, the football community was rocked by rumours of his connection to the disappearance of Eliza Samudio. The pretty young model, 25, had moved to Sao Paulo as a teenager and started working in a series of erotic films as she dreamed of following the footsteps of the likes of Gisele Bundchen and Alessandra Ambrosio in the glamourous world of fashion. During that period - witnesses maintain she and Bruno were in a relationship since 2008, while the player himself claims their relationship was limited to an orgy that took place in 2009 - she became acquainted with Rio's new superstar, and at the start of 2010 gave birth to a son that she insisted was his.
Samudio's story was far from unique. Players of the calibre of Ronaldo and Romario have attested to the existence of wild sex parties amongst the elite of Brazilian football, where young women are always available and willing in return for the chance to rub shoulders with the stars. But as the macabre details of Bruno's relationship filtered out and police continued the desperate search for his victim, a picture of a monstrous, controlling personality emerged.
According to Eliza, prior to giving birth she was held effectively captive by Bruno and his friends, known as 'Russo' and 'Macarrao', and forced to take a substance that would induce abortion. At the time of her disappearance she had obtained a court order to try and prove the goalkeeper's paternity. On June 4, still hoping for reconciliation with the father of her child, Samudio made the fateful mistake of accepting an invitation to visit him at his home in Esmeraldas, Minas Gerais state. She was never heard from again.
Bruno initially denied suspicions he was involved in the disappearance, which police rapidly altered to a murder investigation. "I pray she is found, and when that happens I will fight to take care of the kid, because you cannot abandon them," he said in an interview with Veja .
Just a month later, however, a 17-year-old cousin of the goalkeeper admitted to police she had been lured to Minas Gerais, cut up into pieces and fed to Bruno's rottweiler puppies. The sickening crime saw an ex-police officer, 'Macarrao' and an ex-girlfriend of Bruno sentenced to prison terms ranging between five and 22 years for their involvement, while Bruno was sentenced to a total of 22 years for homicide, kidnapping, false imprisonment and hiding the body. Flamengo moved to cancel his contract while the murder investigation was still ongoing, amid reports that Bruno had attempted suicide twice while in custody awaiting trial.
So why, then, is the goalkeeper walking the streets once more with less than a third of his sentence completed? On February 24, 2017, Supreme Court minister Marco Aurelio Mello ordered his release on the grounds that he spent three years in prison awaiting trial, an excessive period for an inmate that was a first-time offender and who held a fixed address and stable job. Mello upheld a request from the defence to consider as 'preventative custody' all the time Bruno was in jail up until his appeal was heard, a flagrant technicality that nevertheless ensured his freedom. Even more objectionable was his argument that Bruno "had an excellent prior record", indefensible when one considers the horrific nature of his crime.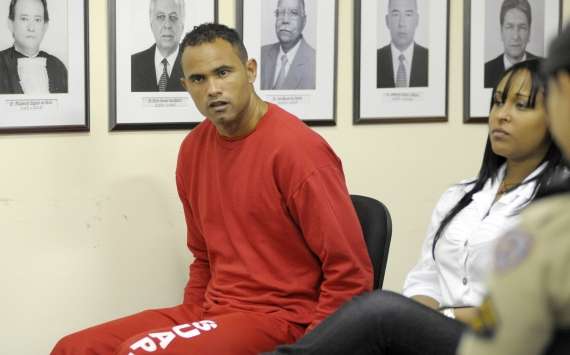 For his part, Bruno shows little sign of regret for his crimes, as evidenced in a chilling interview given after his release. "However much time I spent inside, I want to make clear that a life sentence for me wouldn't have brought her back to life," he told Globo .
"I paid dearly, it was not easy. This will help me as an experience, it has been a learning experience, not a punishment."
The extraordinarily detached tone of his words, and the description of his time behind bars for a shockingly violent homicide as a learning experience suggest that at 32 Bruno's belief he is above the law has not diminished with the intervening years, and he remains stubbornly unrepentant for having claimed a young life in such a barbaric manner. Indeed, he is yet to reveal to authorities where Samudio's remains were hidden, a constant source of pain to her family.
Neymar breaks Messi's assist record
But Bruno's horrific crime has proved no impediment to the continuation of his football career. Lucio Adolfo and Luan Veloso Coutinho, who represent the goalkeeper, affirmed that a dozen sides were interested in his signature, and on Friday Boa Esporte of the Serie B announced the goalkeeper would represent the newly promoted side, from the interior of Minas Gerais state, for the coming season. Rildo Moraes, director of football at the club, told Goal: "He is here in Varginha to continue conversations, and will sign for two seasons as soon as everything is confirmed."
The mother of Eliza Samudio, meanwhile, lives in fear. "Who's to say that this story will not be repeated with me or with my grandson?" she said to reporters. "I have told Bruninho to stay away from the doorway in the house and never leave school with someone who isn't me or my husband." But she is not alone; almost 15,000 people signed an online petition calling for him not to be signed by Bangu, one of the reported suitors (although reports are denied by the club) and Wednesday's International Women's Day was accompanied by a strong movement from women's rights NGOs to end Bruno's football career.
"Players are seen as idols, and this type of example is not acceptable for our children. We will not stand for this symbol of death visiting our houses every Sunday," Vana Lopes, founder of "We Are All Victims United," told Estado .
"Is being a goalkeeper all it takes now to commit murder and then be applauded?" In Boa, too, confirmation of the player's arrival caused consternation on social media. But the club's priorities appear set: in order to establish themselves in the second tier, the chance to hire a first-class goalkeeper at a cut-price rate is worth closing one's eyes to the overwhelming moral objections. Once more, a footballer has been given free rein to flout the laws and win a pardon on the back of their talents.
The story of Bruno is one of arrogance and impunity. Back in 2010, the goalkeeper appeared to believe that his status as a football rock star exempted him from following the laws and morality society needs to function in harmony, brutally killing an ex-lover because she threatened his perfect world with a dose of reality. His release after serving less than a third of his sentence is shameful, but even more aberrant is the decision to give him a second chance on the pitch when Eliza's blood remains on his gloved hands.