Anthony Martial
'He didn't perform!' - France right not to pick Martial for World Cup, says Gallas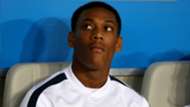 William Gallas thinks that Didier Deschamps made the right call in not selecting Anthony Martial for the World Cup, although he believes Alexandre Lacazette can feel aggrieved at not being picked.
Both players are on France's stand-by list for Russia, with there being fierce competition for places in the squad with attacking talents such as Antoine Griezmann, Ousmane Dembele, Nabil Fekir and Kylian Mbappe all named as past of Deschamps' 23-man group.
France's opening game of the tournament is against Australia on June 16, before they face Peru and Denmark .
And Gallas, who was capped 84 times for his country, feels the decision not select Lacazette can be viewed as harsh, but that Manchester United winger Martial can have no complaints.
"I feel sorry for Lacazette because for his first season in England, he did well," Gallas told Goal . "Fifteen goals with an injury! He came back and did well. Maybe it is a little bit difficult for him to accept that he's not one of the 23 players.
"Martial? I don't feel sorry for him because he had the opportunity. He was in the squad many times before. I think he missed his chance go to the World Cup. He didn't perform at his best for the whole season. To go to the World Cup, you have to perform all season.
"You can't be up and down, that's what has made the difference. He is still young and maybe he will learn. He has great quality and it is a shame for him."
Gallas, who played in the Chelsea Legends versus Inter Forever match at Stamford Bridge on May 18, has suggested France lack a standout leader in the squad, which could hinder their chances of winning the World Cup. 
"As a French guy, I hope they win the World Cup. It will be very difficult as there are some very strong teams," he added. "Spain, Brazil, Germany... it will be very interesting to see if France can get to the final. In France, everybody expects them to get to the semi-final so I hope they will do something.
"We have got some good, young players. They may be young but they are very talented and they can make the difference. The only problem is that if we play against a strong team, we could be in trouble because we will need to be stronger. We need players who shout on the pitch when you're not playing well.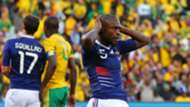 "At the moment we don't have that type of player. I hope that before the World Cup, the manager will speak with his players and say what they have to do. Everyone wants to see one leader, but no one wants to be that leader. To be a leader, you have to think about your performance and the performance of your team-mates.
"You have to talk to them and it is not easy. I know because I became a leader when I was 28 years old. When you ask a player who is only 25, it is really difficult. It might not be natural."