Premier League
Hazard vs Messi - the stats showdown that proves Chelsea star deserves comparisons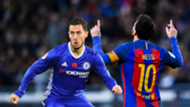 ---
ANALYSIS
---
The football world is running out of superlatives for Eden Hazard following his wonder-goal in Chelsea's 3-1 win over Arsenal at the weekend.
This was proven when Belgium national team coach Roberto Martinez compared the pint-sized winger to Barcelona legend Lionel Messi.
Boateng: Klopp is best coach in the world
"What he does is quite unique," Martinez said in an interview with Goals on Sunday. "It's that acceleration and stopping and standing still. He reminds me a lot of Messi."
"Not many players can control the moment and take the defenders where you want to take them. The way he uses the ball with his feet is sensational and what is surprising more than anything is his maturity."
Messi, of course, is regarded as one of the best players of all time and has won the Ballon d'Or a record five times. Meanwhile, Hazard has been revitalised this term by club manager Antonio Conte after a miserable 2015-16 season, leading the club to the Premier League summit with a string of sensational displays.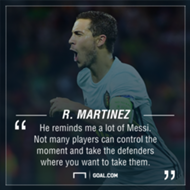 But can the former Lille man really be compared to the genius that is Messi, at least on a statistical level?
With Chelsea out of Europe and an extra cup competition in England, only league football has been taken into consideration for this comparison.
The baffling mystery of Thomas Muller
In terms of goals scored, Messi is a comfortable winner having scored 16 times and Hazard 10.
Leo also has more assists, setting up four goals to Hazard's three – despite playing five fewer matches. However, it must be recognised that Hazard operates much more in wide areas than Messi does, and also has more defensive duties – and this naturally affects his ability to score and create.
When it comes to official man of the match awards, Hazard is the victor. The 26-year-old has been the best player on the pitch eight times this term, one more time than Messi has.
Hazard produces more crosses per game than Messi (1.38 crosses to 0.28) and he is also better at winning back the ball, recovering possession 4.87 times a game - compared to Messi's 2.44.
Chelsea play in a 3-4-3 formation that has freed up Hazard more but he is still required, like all Chelsea players under Conte, to defend. The Blues also operate on the counter-attack much more than the possession and territory-obsessed Barcelona.
It is also fair to argue that the Premier League is a far more competitive and physical league than La Liga – with Barcelona more likely to dominate their local opponents than Chelsea are theirs. This naturally benefits Messi.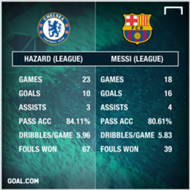 Hazard out-performs Messi in pass completion stats, but as Messi is playing further up the pitch and is more focused on decisive actions that lead to goals, this is perhaps to be expected. Barcelona have scored four more goals than Chelsea so far this term and see their system built around their academy product, despite having both Luiz Suarez and Neymar in their team.
A look into the dribbling stats of both players is perhaps the most insightful and surprising element of this analysis. Hazard defeats Messi both in attempted dribbles and successful dribbles.
Perfect timing for Lacazette to leave
So far this season, Hazard's dribbles-per-game are at 5.96, while his dribble success rate is at 73.72%, compared to Messi's 5.83 and 55.24%, respectively. Hazard is also the first player in Europe's top-five leagues to complete 100 dribbles following the match against Arsenal.
Clearly, there are similarities in the way Hazard and Messi both move and dribble on the pitch. Their exciting styles of play make them two of the most popular and marketable players in the world.
THAT goal from Eden Hazard against Arsenal #cfc #afc #chelsea #chelseafc #hazard pic.twitter.com/WqTLZ6MVqM

— Goal (@goal) February 5, 2017
All in all, these statistics prove that Hazard deserves to be compared with Messi based on his form this season.
Goals and assists will always be the most decisive areas when comparing two attackers, and Messi is superior than the Belgian in these aspects. He remains the standard-bearer in world football, along with Cristiano Ronaldo.
But in terms of his overall contribution to the team, Hazard outperforms the Argentine in numerous areas. And if there is one thing in particular he can be proud of, it is that he is a better dribbler than Messi right now!