Chelsea
Hazard: Loftus-Cheek will be one of the best midfielders in England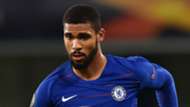 Chelsea forward Eden Hazard has backed team-mate Ruben Loftus-Cheek to become 'one of the best midfielders in the country'.
The 22-year-old is enjoying a productive campaign at Stamford Bridge and has netted five goals in his last six games, with his latest coming in Sunday's 2-0 win against Fulham .
Yet, despite his fantastic from when he has played this season, Loftus-Cheek is yet to start a game in the Premier League so far in 2018-19 due to the fierce competition in the Blues' midfield.
Manager Maurizio Sarri has tended to opt for Ross Barkley or Mateo Kovacic alongside N'Golo Kante and Jorginho, meaning Loftus-Cheek has been confined to just four league appearances off the bench.
However, Hazard knows that if the youngster keeps working hard he can nail down a place in the Chelsea side.
"He's a fantastic player," the Belgian told Sky Sports News . "We all know. I've trained with him for five years.
"I saw him when he was young, now he is not so young but he can still improve. But in the future I think he will be one of the best midfielders in the country."
With the lack of first-team football under Sarri, Loftus-Cheek has been linked with a move away from the Bridge, but he has claimed such reports are inaccurate .
The England international combined well with Hazard to score Chelsea's second goal of the game against Fulham on Sunday, and the Blues No. 10 believes the intricate passing sequence demonstrates the quality in this Chelsea side.
"This goal was good but we have the kind of players that when (we are) in short spaces we can do one-touch and give and goes. So we try to do this."
Next up for Chelsea is a trip to Molineux and Hazard knows it will be a tough game against promoted Wolves.
He said: "It's not enough just to think we're going to win, it's not like this in the Premier League. You need to show that on the pitch you want to win and you deserve to win.
"What I see from them is they are good players. I know Joao Moutinho was playing in France and I watch the French league so I know him.
"But I think the manager (Nuno Espirito Santo) is good as well, they are playing a good style of football so it's going to be a good game."