Joe Hart
Hart inspired by Lions as he prepares for Man City return by rugby tackling inflatable flamingo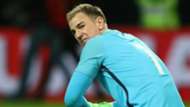 Joe Hart remains a Manchester City player for now and is preparing for pre-season training with some Lions-inspired rugby tackling.
After watching Warren Gatland's side secure a series draw in New Zealand on Saturday morning, the England international took the opportunity to unwind.
Pep facing another Hart dilemma
He is due "back to school" on Monday, with the 30-year-old – who spent last season on loan at Torino – set to link up with Pep Guardiola's squad despite seemingly being surplus to requirements.
Various clubs have been linked with the experienced goalkeeper, but no deal has been done and for now Hart must entertain himself with inflatable animals and a swimming pool.
The likes of Arsenal, Liverpool, Manchester United and Chelsea are all reported to have given consideration to a move for Hart.
The Premier League heavyweights all have established options in their ranks, though, and have no need to add at this stage.
Hart & the stars who fell out with Pep
Everton have also been linked with him but opted to snap up Jordan Pickford, while West Ham are currently focusing their attention in other areas.
Watford and Championship side Aston Villa are believed to still be in the mix, but Hart remains a City player at present.
There appears to be little chance of him being offered a reprieve by Guardiola, though, with the Catalan having cast him aside last season and since completed a big-money move for Brazilian keeper Ederson.