Johor Darul Ta'zim
Hariss target Super League title in JDT return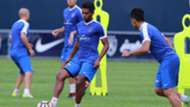 Last season was supposed to be one where Hariss gets to taste Spanish football for the first time in his career but it wasn't meant to be. The loan move to CE L'Hospitalet didn't quite materialised and the 27-year-old ended up spending 2017 with Home United.
For the 2018 season, the midfielder is back in the Johor Darul Ta'zim (JDT) squad following the increase of import slot with the ASEAN quota being added to the Malaysian domestic season.
His time away coincided with JDT winning the Super League as well as the Malaysia Cup. Not only that, the midfield also saw the coming of age of Afiq Fazail as well as the arrival of Ignacio 'Natxo' Insa, both of whom will be Hariss' main competitors for the berth in central midfield.
Be that as it may, Hariss is more excited at the prospect of new challenges than quaking in his boots.
"My main focus is to help JDT get through the AFC Champions League (ACL) second qualifying round in mid-January and take on the M-League."
"After more than a week of training under head coach Ulisses Morais, I'm very excited to train with experienced players like Natxo Insa, Jorge Pereyra Diaz and Luciano Figueroa as all as several young players," Hariss was quoted on the club's Facebook page.
The time with Home United wasn't a bad one as he lead the Singaporean team to third place in the S-League, albeit trailing 12 points behind eventual winners Albirex Niigata.
Hariss comes back to JDT with a mission and has a clear target what he wants the team to achieve in the 2018 season.
"I played for Home United FC for eight months. It helped me improve my physical strength and gives me more confidence before heading to Thailand for pre-season next month."
"When we are the champions for four consecutive seasons, surely JDT will face a bigger challenge. But I'm optimistic that JDT with the calibre and experience of the players, will retain the title.
"The football philosophy at JDT plays an important role to ensure the team's playing style remains to be good quality and not static without improvement. In fact, I am impressed that after a season away from JDT, many changes have taken place," added Hariss.