AFC Cup
Hanoi coach sees Zah Rahan, Hadin and Cano as the dangermen for Felda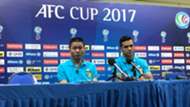 ---
  BY       OOI KIN FAI      Follow on Twitter
---
In Group G of the 2017 AFC Cup, Hanoi FC are considered the favourites to advance to the next stage of the competition. Having won the Vietnam League last season, coach Chu Dinh Nghiem knows his team has the pedigree to do well in this competition but has encountered a stuttering start thus far.
On Tuesday, they will take on Felda United at Shah Alam Stadium after only managing a poor 1-1 draw with Ceres Negros in their opening group game. Not taking things for granted, while Chu wants his side to get the team, but the coach will be satisfied to get another point on the board.
"First game we had many chances but the result as you know is only a draw. We were not happy with that. We come here to do our best and the target is to get at least a point.," said Chu at the pre-match conference.
It has not been a good start for the Hanoi side in domestic matters as well. Only draws and without a win yet, Chu merely puts it down to the fitness of his players and the lack of recovery time but remains confident that they will be able to get something against Felda.
"Until now the matches have been draws and that is down to key players not 100%fit and schedule too tight. for the match tomorrow, we already have solution and is confident going into the match," added Chu.
Chu is meticulous in his preparations and have done the necessary to ensure that his Hanoi side do not go into the match blind. Felda's attacking trio in Zah Rahan, Hadin Azman and Lucas Cano were given special mention, no doubt plans are afoot to ensure they do not get the space they would like on Tuesday evening.
"From what we've seen, Felda is a good team. Their number 10 [Zah Rahan], 27 [Hadin Azman] and 8 [Lucas Cano] are good players. We will respect them and do our best," explained Chu.
As for his own team, Chu will have to reshuffle his team to cover the absences at the back and up front. However, he can still rely on the mercurial talents of Nguyen Van Quyet and former Paris Saint-Germain forward, Loris Arnaud.
"We dont have the best team for tomorrow. We have key players injured like [Alvaro] Silva and Samsun [Olayeye]," said Chu.