WC Qualification Africa
Gyan: Now very difficult for Ghana to qualify to 2018 World Cup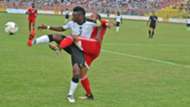 Ghana captain Asamoah Gyan has admitted that the Black Stars were poor against Congo in the 2018 Fifa World Cup qualifier that ended in a 1-1 draw at the Baba Yara Sports Stadium in Kumasi on Friday.
After picking just a point from two games, Ghana were hoping to snatch their first victory in the qualifiers to close the gap in Group E where Uganda and Egypt are ahead.
Bifouma Thievy's scored the opening goal for Congo before Thomas Teye Partey grabbed the equaliser late in the game for Kwesi Appiah's men.
''It's difficult. Honestly it's very difficult [for us to qualify now]. Things didn't go well as expected and we didn't play the way we expected to play like tactically and mentally. I didn't know what went wrong but I will say the desire wasn't there today and we were a bit poor,'' Gyan said.
''It's one of those days that things happen wrongly. Nobody is to be blamed here but it's one of those days that nothing gets well on the field. I don't know what went wrong but I think it's one of those days,'' he added.
Gyan was substituted in the second half after picking up an injury and says he cannot confirm if he will miss or not the return leg against Congo on Tuesday.
"I don't know [if I can make the trip] but I will go for a scan on Saturday because I'm feeling a bit of pain in my groin. I think I over-stretched so the scan is going determine whether I can play or not.''
Gyan is Ghana's most capped and all-time topscorer with 51 goals in 106 appearances.
document.write("");