Manchester City
Guardiola's reaction to Hart question shows there's no chance of Man City return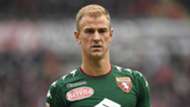 Pep Guardiola has once more indicated that Joe Hart has no future at Manchester City by dismissing questions about the England No.1.
Guardiola decided early in his City reign that Hart would not feature in his plans for the club as he sought to bring in more of a ball-playing goalkeeper with superior distribution.
Hart, Caballero and Bravo all out this summer?
Barcelona's Marc Andre ter Stegen was identified as a priority target but City were met with resistance by the Catalan club, and Claudio Bravo was signed instead.

Bravo has now fallen behind Willy Caballero in the pecking order and Guardiola's decision to bench the Chilean has lead to questions over whether he regrets how he handled Hart.
The City boss' responses have always followed a similar pattern and he once again gave the issue short shrift when asked on Tuesday if the situation with Caballero and Bravo has changed his opinion.
"I'm so happy with Willy and Claudio," he said, before shaking his head.
Man City owners 'so happy' with progress
Goal reported earlier this month that City are planning on offering Caballero a new contract, although no contact has yet been made with his representatives despite his deal expiring this summer.
Indeed, City's plans for the goalkeeper position are currently up in the air, with the club keen to see how the season pans out before making any major commitments.
Benfica's Ederson and Sunderland's Jordan Pickford are options, though Guardiola said with a simple "yes" on Tuesday that both Bravo and Caballero could still be at the club for next season.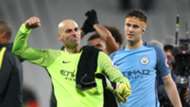 "I will decide about that at the end of the season," he continued. "I trust a lot in both and we'll decide - not just the goalkeepers, the midfielders, wingers, strikers, full-backs - we are going to decide at the end of the season."
Asked if there was any chance of deciding on a new deal for Caballero before the end of the season, he added: "We'll think about that but we'll make the decision at the end of the season. They have to try to keep going, to convince me every day.
"There are five, six players out of contract but they know the situation. Of course there is a risk, maybe they can sign a contract for another club and we have to accept that. But we are going to decide in the last months of the season."