Premier League
Guardiola achieves his version of football perfection at Man City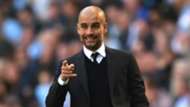 ---
COMMENT
---
Things may not have entirely gone to plan for Pep Guardiola at Manchester City this season, but he did at least achieve his idea of footballing perfection on Saturday afternoon.
Guardiola has had a very clear idea of how football should be played since his early days as a player in Barcelona.
Perhaps the starkest example was when he would speak on the telephone with Jorge Valdano and Angel Cappa, then in charge at Barca's arch rivals Real Madrid, during the 1994 World Cup, and criticise the stodgy playing style of Spain's then manager, Javier Clemente.
Guardiola was 23 years old, but already certain about how football should be played. Clemente's style was not it.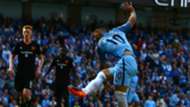 The Catalan would meet with Valdano and Cappa whenever possible, despite their respective positions at Madrid and Barcelona, and in one such meeting he laid out his idea of the perfect goal.
"Once, during a meeting with Guardiola, he asked what would be the ideal goal," Cappa says, as relayed in 'Che Pep', Vicente Muglia's book on the Argentine influences on Guardiola's career.
"He didn't let me answer. He said, knowing me, it would surely be somebody dribbling. He told me that he had another idea, that his ideal goal was one where all 11 players would pass to each other without the opposition touching it and that the last player would put it in the net."
This was clearly something Guardiola thought about a lot. Towards the end of his playing career, he would have the same chat with Angel 'Matute' Morales, a team-mate at Dorados Sinaloa - where he went to play under Juanma Lillo, a coach he had always admired.
"One day he asked me what would be my ideal goal," Matute said. "I told him, 'Running past the whole team, putting it through the keeper's legs and back-heeling it in'. He said that his ideal goal was completely the opposite of mine, that his dream goal was that the whole team would pass the ball without any rival player touching it.
"Years later, when I saw his Barcelona play on the television, I remembered that chat and knew that even back then in Mexico Pep had very clear ideas."
Those ideas have not always translated to the pitch during his time in England, and indeed City's 3-1 victory against Hull City served to strengthen their grip on a top-four finish. Unlike at any point at Barca or Bayern Munich, the title has long been out of reach.
But for those questioning if Guardiola has been able to stamp his authority on the team, there was an emphatic answer on Saturday afternoon.
A nice little Opta map of the second goal, showing every City player getting a touch before Aguero finished (ignore Jakupovic's studs) pic.twitter.com/4ZAZseD1bj

— Sam Lee (@Sammy_Goal) April 8, 2017
Inevitably, it all started near City's own box, with Claudio Bravo, surprisingly recalled to the team, heavily involved.
Jesus Navas got his touch in early before Bravo, John Stones, Yaya Toure and Aleksandar Kolarov helped work the ball out of a tight spot in City's own box.
Kolarov found Fabian Delph at the back of midfield, before the England midfielder, who fired in City's third goal, passed it out to Gael Clichy. The French left-back combined with Sergio Aguero, who dropped deep to join up with the play and knocked the ball to Leroy Sane. Sane then found Clichy again, and his pass into Yaya Toure helped open up the game, with City now in Hull's half.
With Hull focused on their right-hand side, City then moved through the gears down the middle. Toure found David Silva, who played a direct ball in to Raheem Sterling. The winger, showing there is room for a dribble in Guardiola's idea of football, burst into the Hull box and got in a crossing position.
Historic penalty call made by VAR
This is where it almost came crashing down at the end. Hull keeper Eldin Jakupovic got studs on Sterling's cross, but he could not stop the ball reaching Aguero, who had re-appeared back in the box at exactly the right moment. His shot somehow found its way through Hull's last-ditch attempts to block, and City were 2-0 up shortly after the second half resumed.
The goal was a perfect example of what Guardiola is asking of his players at the Etihad Stadium, and the City boss admitted as much himself afterwards.
"Maybe the second goal is the big example of what we would like to be as a team," he told reporters.
"I don't like the teams where defenders just defend, the strikers score the goals, the midfielders where one runs and the other is a playmaker, I don't like this kind of thing. I like everybody involved in the way we want to play, and the defending is the same.
"From the beginning we made the high pressing and tried to make the build-up for that reason, to try to have everybody involved in the game, for everybody to want the ball to play and we were lucky in the second goal that happened."
The slick passing out from the back was evident, but the move also involved an overload on the City left, which was quickly exploited by Clichy's neat ball to Toure.
The Ivorian spotted David Silva, who was majestic on his 300th appearance for the club, and he did what he did best by feeding Sterling. While Guardiola is clearly obsessed with passing the ball, he has become more and more attached to tricky wide men in recent years and Sterling's contribution this season has added another dimension to City's game.
Aguero, who has been in the spotlight as he attempts to get to grips with Guardiola's demands, has shown his stomach for the fight in recent weeks, and that was evident as he dropped deep to link up the play, but still knew exactly where to head as City advanced up the pitch.
It may not have been the first season at City that Guardiola envisaged, but this goal, at least, will surely mean a lot.