CAF Champions League
Gor Mahia sticks with Zedekiah 'Zico' Otieno ahead of clash against Nyasa Big Bullets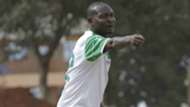 Gor Mahia management have called upon fans to rally behind interim coach Zedekiah 'Zico' Otieno ahead of the Caf Champions League clash with Nyasa Big Bullets.
'Zico' is currently in charge of the technical bench following the exit of Dylan Kerr to South African Premier League side Black Leopards.
Gor Mahia, who are still in the market for Kerr's replacement, said that they have faith in their assistant coach, who will be in charge of the team until a new head coach is appointed.
"With the interim coach 'Zico', we have no doubt that the boys will play very well and continue to prove that indeed they are unbeaten in the Kenya Premier League.
"I wish to call upon you all to continue rallying behind the team with songs, dance and an upbeat morale as we prepare to face Nyasa Big Bullets FC of Malawi in the upcoming Caf Champions League preliminary match on November 28, 2018," Gor Mahia treasurer Sally Bollo said in a statement obtained by Goal .
Bollo further called upon fans to desist from 'cheap politics' in regards to Kerr's departure. "The departure of our immediate Coach Kerr is nothing new in the corporate circles and /or sports industry as competition and successful replacement is done daily in other industries without much hue and cry.
"We are grateful for the time Kerr lent his expertise and skills to our players but when the time came for him to leaves, we respected the exit and quickly made way for a transition to happen.
"Let us desist from name calling and cheap politics regarding the exit of coach Kerr. Instead, let us focus on winning next week's match and flying high the flag of Gor Mahia not just locally but across our borders as well."