NPFL
Gombe United's Garba hails Abanni's qualities after wonder goal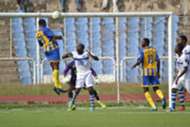 Coach Manu Garba has hailed the qualities of Sanni Abanni and believes the Gombe United forward is one of the upcoming stars to shine for Nigeria.
Having scored in three consecutive games, the forward has turned out the new hero, helping the Savannah Scorpions stayed unbeaten in their quest for top flight survival.
His third goal of the season was the beautiful opener against El Kanemi Warriors and the Savannah Scorpions gaffer is simply amazed by the youngster's progress.
"Well, he [Sanni Abanni] is a lucky boy. He scored a beautiful goal against El Kanemi Warriors," Garba told Goal.
 
"I believe is goal deserve to the goal of the week and also good enough to win the player of the month award because he scored three goals in three matches.
 
"He is a great talent I believe we go far if he remains focus and does not get distracted. I've been following him for a long time and feel very happy with his progress.
 
"I knew him as a kid when he was with the ball boys and also played with Yarmalight Football Academy of Gombe. He has a lot of qualities in him.
 
"He is highly disciplined, has tremendous speed, good technique and can shoot with both feet. He is one of the players that can useful for our U20, U23 and a future Super Eagles player."
 
Meanwhile, Abanni's goal against the Desert Warriors last Sunday has been nominated for the VAT goal of the week.