Premier League
Goal or no goal, Aguero's Man City career rests on top performances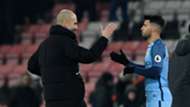 ---
COMMENT
---
So Sergio Aguero either came off the bench and made his point by scoring in Manchester City's win at Bournemouth, or it was an own goal and the point remains unmade.
In reality, the goal makes no huge difference either way. It is the overall contribution to the team that counts and goals alone, as we know, are not enough for Pep Guardiola.
Football Manager predicts CL winner
Aguero's comments last weekend, where he suggested he is fighting for his future at the club, put his situation under the microscope, but he has been involved in that battle all season, not just in the last seven days. Guardiola has publicly urged his striker to do more than just score goals since August.
During a prolific run of 11 goals in six games to start the campaign, Guardiola would regularly surprise journalists, who were looking for praise of the Argentine, by pointing out that he needs to do much more to help the team.
If we're limiting knowledge of the Aguero issue to direct quotes from the parties involved, we know this much: Guardiola wants Aguero to work harder off the ball, and he wants to prove himself and stay at the club beyond the summer.
So in many ways, whether he was awarded City's second goal of the night or not would not have made that big a difference. "He played good. He fought, he scored a goal, for his confidence, and I am so happy for him," Guardiola said afterwards.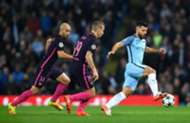 Aguero's best performance of the season came in the 3-1 victory against Barcelona in November. He did not score, but he ran himself into the ground, created opportunities and helped City achieve a landmark result. Guardiola said he was "awesome" and that showing might even be finest performance of any City player this season.
The issue for him is that he has failed to reach those heights in the months since. Having missed most of December through suspension - as Guardiola often points out in a frustrated tone - he struggled to find his rhythm into the New Year and the arrival of Gabriel Jesus has resulted in him losing his place in the side.
'Verratti is Xavi's natural successor'
Jesus is blessed with the battling attributes Guardiola wants to see from Aguero and it is that spirit, allied to his goalscoring ability, that had made the Brazilian first choice. Aguero admitted last weekend that he could learn a little from the 19-year-old but he added, somewhat defiantly, that he has been in Europe for a long time playing his own way and done just fine.
We will get more of an idea in the coming weeks just how much Aguero plans to adapt if Jesus' ankle injury, which forced him off at the Vitality Stadium, is serious.
As Guardiola has regularly pointed out, City need Aguero, and certainly will do now the gap to Chelsea is down to eight points and there is talk of a belated title challenge.
City's defence has looked like the biggest factor in their failure to keep up with Antonio Conte's men so far but Guardiola often shifts the blame onto the attack, insisting that their failure to convert their chances has been keenly felt.
Aguero, of course, has not been solely to blame for that. In many of the games he has started since his Christmas ban, David Silva, Kevin De Bruyne and Raheem Sterling had not been at their creative best and chances were few and far between.
Now, all three are looking back to their best - Silva was particularly superb while Sterling won man of the match. With Leroy Sane growing into his City career on the opposite flank to Sterling, there will be plenty of goals to come, whether Aguero or Jesus spearhead the attack. It is all the rest of it which will make or break Aguero's future.
Regardless of the centre-forward's identity, Guardiola has re-found a balanced system which gets the best out of his midfielders and wingers and provides cover for the defence and goalkeeper. City are far from the finished article and there will probably be one or two more bruising nights ahead, but it is they who look most likely to push Chelsea all the way.
Aguero could yet have a huge say. He knows how to score goals, and always has done. What he hasn't always done is put in the kind of effort required to lead a Guardiola team. That will be the key in the coming months, just as it been since August.