Juventus
Marotta dismisses need for big Dybala buyout clause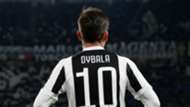 Juventus chief executive Giuseppe Marotta claims the club does need not to follow the example of Barcelona and, as such, will not insert a huge buyout clause in the contract of Paulo Dybala.
Intended to ward off any unwanted interest in a prized asset, what appeared to be a prohibitively expense release clause of €222 million did not prevent Paris Saint-Germain from sensationally luring Neymar away from Barca in August.
Juventus 6/4 for Serie A title
The Liga giants have responded by increasing Lionel Messi's buyout clause to €700m in the latest deal signed by the star forward on Saturday.
Dybala has been linked with a move to join Messi at Camp Nou and may also find himself the subject of interest from other heavyweight clubs across Europe.
But Marotta, when asked about the future of the 24-year-old former Palermo star, feels the Scudetto holders would not benefit from following a similar strategy to Barca.
"I am against the [release] clauses, because when a player wants to leave, he does everything to achieve that goal and breaks that fundamental trust [necessary so that] the relationship can continue," he told Mediaset Premium.
Dybala has enjoyed a superb 2017-18 so far, scoring 12 goals and providing two assists in just 14 Serie A games.