U20 Women's World Cup
Ghana coach Basigi bullish ahead of Fifa U-20 Women's World Cup opener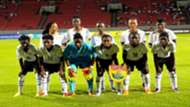 Ghana coach Yussif Basigi is full of confidence ahead of the 2018 Fifa U-20 Women's World Cup opening game against host nation France on Sunday.
The Black Princesses faced some challenges during their preparations ahead of the tournament including the cancellation of a training tour to Spain by government due to financial difficulties and also, arriving in France in different batches on Tuesday.
However, after three training sessions together, Basigi believes his team is ready to take on the hosts at the Stade de la Rabine, Vannes.
"The players are feeling good and are ready because the enthusiasm to play against the host nation is very high," Basigi said.
"We need that feeling because it brings willpower to achieve results. The girls want to perform well and make an impact in the tournament. 
"That feeling is very good for every team. Even though it is usual for teams to feel tensed especially when they are going to play against the host nation but we are not in that state. We want a good result so we can build on it to qualify from the group stage for the first time in our history," he added.
Ghana will later play Netherlands on August 8 before facing New Zealand in the last game of the group on August 12.