World Cup
'Germany should have considered leaving out Ozil' - DFB manager Bierhoff criticises Arsenal star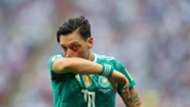 Germany national team public relations manager Oliver Bierhoff has criticised Mesut Ozil, suggesting that the Arsenal midfielder should have been left out of their squad for the World Cup.
The 2014 World Cup winners suffered a humiliating exit in Russia, finishing bottom of their group with just one win from their three games at this summer's tournament. With the country now in post-mortem mode following the shock of falling at the first hurdle, many players and pundits have sought scapegoats for the World Cup failure.
Before the tournament, Ozil's off-field decisions were brought into question when the 29-year-old appeared alongside controversial Turkey president Recep Tayyip Erdogan and posed for photographs along with Ilkay Gundogan.
While the Manchester City midfielder apologised for the ill-advised appearance, Ozil attempted to distance himself from the controversy and did not speak about the incident.
Bierhoff believes that posing for the photographs was not an issue, but feels the controversy and attention following Ozil's decision not to speak publically affected the team and distracted the players before and during the World Cup.
"We never forced any player of the national team to do something, but we always tried to convince them," the 70-time Germany international told Welt. 
"We haven't succeeded with Mesut. That's why we should have thought about leaving him out from a sporting point of view.
"I think the fact that Mesut and Ilkay took these pictures did not keep the team busy. But the debate afterwards did. Looking back now, I would try to be clearer regarding this topic."
Bierhoff, who has been national team manager since 2004 when Jurgen Klinsmann was appointed Germany head coach, also feels that the side need major changes to rebuild after the World Cup, which will include staff changes as well as player rotation.
"What has contributed to a 14-year success story must not be ignored, but it is clear that we have to put everything to the test, both in terms of personnel and structure," Bierhoff continued. 
"This includes the composition of the squad as well as the internal processes. There must be cuts at all levels, we did not present ourselves as a team in Russia, that's something that hurts me a lot."
The German Football Association's first major decision after the World Cup was to retain head coach Joachim Low, who is contracted with the DFB until 2022.