Transfers
Why Man City are right to break the bank for Walker & Danilo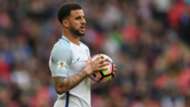 ---
COMMENT
---
When Manchester City signed Kyle Walker from Tottenham for £50 million, they broke the transfer record for an English player, and shocked many football supporters in the process.
No-one doubted Walker's ability, for the 27-year-old has long been regarded as one of the best right-backs in the Premier League, but more for the fact that the £50m transfer fee made him the 14th most expensive player and joint-most expensive defender ever at the time.
Get odds of 15/8 on Man City to win the Premier League
City have now followed that purchase with the acquisition of right-back Danilo from Real Madrid, and are set to breaking the transfer record for a defender to sign Monaco's Benjamin Mendy. Danilo is capable of playing on the left of defence and even in midfield, and the signing and pursuit of Mendy further highlights the importance of full-backs to City boss Pep Guardiola and the modern game in general.
Danilo's £26.5m transfer has also been met with some scepticism from fans, who feel that Real Madrid have gotten the best out of the deal by off-loading a squad player for a big sum.
Walker's five Premier League assists last season put him on a par with Eden Hazard and Sadio Mane, two of the league's leading offensive talents, while Antonio Conte's Chelsea romped to the league title thanks to their wing-back focused formation where Victor Moses looked like a different player having switched from being a standard winger.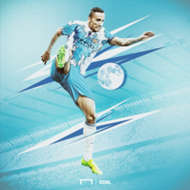 With PSG, Juventus, Barcelona and Arsenal among the many leading clubs investing in full-backs, the position is one of the most valued in today's transfer market. Everton have not taken to the market to sign one, already having two of the Premier League's best at their disposal. Leighton Baines has been with the Toffees since they signed him for £5m back in 2007, playing 375 times in all competitions. Seamus Coleman is currently sidelined through injury, but his £60,000 fee to League of Ireland club Sligo Rovers seems like a distant memory, especially as he was linked with the likes of Manchester United before his leg break.
Like Moses, Coleman has operated both as a winger and a full-back, something that fellow Irishman Kevin Kilbane did before him at Everton. The 110-time Republic of Ireland international knows how important the role is both defensively and offensively, and believes that there is no more important player on the pitch in 2017.
"I think even from an attacking point of view, full-backs are probably the most important players because they have got to provide that width and they have to have that energy level," Kilbane told Goal.
"They have to be able to run for 90 minutes. Continuously running for 50-60 metres is not as if midfield players in general are doing with 20-30 metre runs trying to get around the pitch in high intensity. The high intensity runs are the 50-60 metres run which is made by a full-back now and that is why it is such a prized position and that is why the best coaches in the world are looking at the best full-backs.
"Everyone watching football or reading this now knows that one of the most important positions of the pitch, if not the most important, is the full-back from an attacking point of view."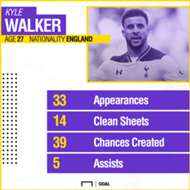 Guardiola deployed Jesus Navas as a full-back last season as he tried to mould City into a more modern style. The former Barcelona and Bayern Munich boss had worked with some of the world's best in Dani Alves, Philipp Lahm and David Alaba, but City's aging backline were not able to compete in the style outlined by Kilbane.
Pablo Zabaleta, Aleksandar Kolarov, Bacary Sagna and Gael Clichy were his options last season, and he lamented the fact that their age made it impossible for his side to play the way he wnated.
"I don't like too much to go to the forwards today in attack, I like to attack in other ways," Guardiola told Sky Sports after the goalless draw with Manchester United in April.
Walker, Lukaku & the Biggest Transfers of the Summer
"They are waiting for your mistake to punish you. They can play and have a lot quality but they defend so compact and wait to punish you behind your full-back, and we don't have full-backs to go up and down, up and down, because all of them are 33, 34 years old, so I adapt with the quality of players."
With Walker, Danilo and Mendy, Guardiola will now be able to properly mould City into his image, and use attacking full-backs to dictate games. He may have broken records and received criticisim by signing them, but they will prove to be priceless if the highly-regarded Spaniard can bring the Premier League or the Champions League trophy to the Etihad.