Transfers
From Roma reserve to Chelsea's first team? Introducing Emerson Palmieri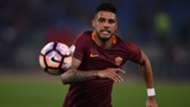 "When I arrived at Roma," Emerson Palmieri reminisced, "nobody knew who I was." It could be a similar story for the Brazilian now that he has touched down in London to join Chelsea. 
Before the season began, the Blues had high hopes of signing Alex Sandro, Juventus' rampaging left-back. Now, midway through the 2017-18 campaign, they have instead brought in Emerson, a reserve at Roma. 
Chelsea fans could, therefore, be forgiven for asking not only who Emerson is, but why their club has paid £17.5 million for a player who has featured just twice for the Giallorossi so far this season.
As with any story, though, context is key. Emerson only returned to full fitness in December, having been sidelined for six months with an anterior cruciate ligament injury. 
The reason why he has been used so sporadically in the interim is twofold. Firstly, Roma have been wisely reluctant to rush Emerson's recovery. Secondly, Aleksandar Kolarov has been one of the stars of the Serie A season so far. 
Signing someone coming off the back of ACL damage is undeniably risky. Some players never truly recover. However, if Emerson can get back to his best, Chelsea will have a fine full-back on their hands. 
Indeed, the Santos-born defender was one of the revelations of the 2016-17 Serie A season. Little had been expected of him when he joined Roma on loan from Santos in the summer of 2015, given he was coming off the back of an unsuccessful season-long stay at Palermo. 
Emerson hadn't even played regularly at Vila Belmiro, where he had been best known for having his head partially shaved by former team-mate Neymar as part of his initiation into the first-team squad, leaving him with random patches of hair.
Even at Palermo, he had failed to make much of an impression. He featured just nine times for the Sicilian side yet former Roma sporting director Walter Sabatini saw something in Emerson that nobody else had.
"I watched him a couple of times at Palermo and I liked the way he moved," he revealed. "With his agent also having offered him to us on very good terms, I decided to sign him." 
A quiet, unassuming character with a strong faith in God who avoids the glare of the public spotlight as much as he can, Emerson initially struggled to make an impression at the Stadio Olimpico but, when Lucas Digne left for Barcelona the following year, the Giallorossi opted to extend Emerson's stay in the Italian capital for just €2 million.
It proved a shrewd decision, with the doggedly determined Emerson forcing his way into Luciano Spalletti's starting line-up, whether that was at the back or on the wing. He was even trusted at right-back on two occasions, underlining his impressive versatility.  
However, after Alex Sandro, Emerson was arguably the best left-back in Serie A in 2016-17, proving an excellent outlet going forward, without ever neglecting his defensive duties.
The 23-year-old created 30 chances in just 25 outings. By contrast, Marcos Alonso, with whom he'll be competing for a starting berth at Stamford Bridge, created six fewer in the Premier League last season despite playing eight more games. 
However, whereas the arrival of Alex Sandro at Chelsea would have cast serious doubt on Alonso's starting berth, it is unlikely that Emerson will usurp the Spaniard, at least not yet. 
Emerson is by no means the finished article, and certainly does not offer anything like the same goal threat. He didn't net once during the 2016-17 campaign, and provided just one assist, but those stats did not do justice to his contribution to a season that ended with Roma finishing second.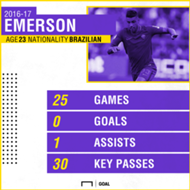 Many in the media had doubted the wisdom of Spalletti's decision to put his faith in a man who had previously been Palermo's second-choice full-back, so when the young Brazilian turned in a complete performance on the left wing in a 2-0 derby win over Lazio in December 2016, the former Roma boss took the opportunity to put the naysayers in their place.
"Emerson had a really great game today," Spalletti enthused. "Let's see now what happens. Why not leave him be so that you can see what quality he has?"
His plea did not fall on deaf ears and, by the season's end, nobody in the press questioned Giampiero Ventura's decision to include Emerson in an experimental Italy squad for a friendly against San Marino in June.
Fate once again intervened, though, with the 23-year-old suffering his knee injury on the final day of the 2016-17 campaign, thus robbing him of his chance to make his international bow for his adopted nation (Emerson sports a tattoo on his arm in which the Brazilian flag merges with the Italian tricolour).
The ligament damage also scuppered a proposed move to Juventus, who had been considering signing Emerson to replace the seemingly Chelsea-bound Alex Sandro. The Bianconeri stubbornly refused to let the latter leave and that stance will remain unchanged until the summer.
As a result, Chelsea have realised what Juventus did last season: that while Emerson might not yet be Alex Sandro, he could be the next best thing.