Transfers
Former Senegal star El Hadji Diouf speaks glowingly about the standard of South African football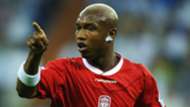 Senegal football legend El Hadji Diouf believes that South African footballers need to move abroad if they are to realise their full potential.
Diouf, who recently visited South African shores as part of Morocco's Fifa World Cup bidding committee, has spoken glowingly about the standard of South African football.
The 37-year-old who has made a name for himself playing for some of Europe's biggest club's including Liverpool has iterated the belief that South African football needs more players strutting themselves on football's biggest stages.
Nonetheless, in an interview with the South African Football Association, the outspoken Diouf has expressed some of thoughts on South African football in general and the talent on show at some of the country's biggest clubs. 
South African football has the best teams on the continent, Kaizer Chiefs, Orlando Pirates and Sundowns," Diouf told Safa on his most recent visit to South African Football's mother-body's headquarters.
"They have so many great players but I ask them, the young players not to think about themselves, and stay at home to be comfortable. South Africa and Africa need them to go abroad with the big teams and come back here to be winners. Because I watched them play against Senegal, and you play the best football I have ever seen in my life, but (have) a lack of experience.," he added.
Meanwhile, Diouf has singled out the Mamelodi Sundowns star Percy Tau has one player who should be destined for bigger things, but only if he makes his much talked about move abroad.
"Players have to go out and get it, because South Africa need it, and I don't understand how come the players only want to stay and play football here. I watched them as I am interested in South African football," he said.
"I like to watch Orlando Pirates, Kaizer Chiefs and now Sundowns doing well on this continent. Players have to go out and play abroad, I see so many talents. The guy who scored the goal against Senegal (Tau), a very good footballer, and he has to leave this country and go to play for the good of South African football," Diouf explained.
Like back in the day, South African football was so successful, because you got some players playing for Leeds United like Lucas Radebe, Benni McCarthy for Porto and Aaron Mokoena at Ajax Amsterdam. Just like I say to the boys you have talent, you have everything but you go to go out and play for the big teams as South African football and Safa need it," he concluded.  
You can watch the full interview here: