African All Stars
Dejan Lovren's latest lapse should open the door for Joel Matip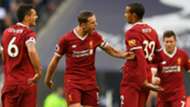 ---
COMMENT    By Solace Chukwu    

Follow on Twitter
---
Jurgen Klopp's gegenpress is now pretty much mainstream, but there was a time when he still talked about it with a knowing gleam in his eye.
When Manchester United beat Liverpool in March, however, one man's epiphany rocked the German and European elite, but at the core of it was a very simple idea.
That the idea, in its most basic expression, was what so thoroughly discomfited his side in United's 2-1 win was telling, and greatly ironic. There may be little similarity between Klopp and Jose Mourinho stylistically, but both agree that transferring the ball into the final third quickly is the way to play. The difference is, and has always been, in the  area from which that transferring is done.
While the German prefers to regain possession high up the pitch and immediately overwhelm a disorganized defence, Mourinho both took out that option and emphasized his own envisioning, transferring the ball into the Liverpool final third direct from David De Gea's booking kicks.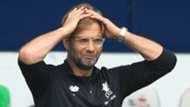 So, play directly and exploit an unbalanced opponent. It was a strategy that worked for Liverpool so flawlessly as they dismantled AS Roma in the Champions League on Tuesday, taking a 5-0 lead against the Serie A heavyweights before a late collapse.
Klopp forces the unbalancing, and so is considered proactive, but as he demonstrated in March, Mourinho seeks to ruthlessly punish errors of judgement.
As such, it is safe to say that, as much as anyone, Dejan Lovren played a key role in deciding last month's contest in favour of the Red Devils, and when another big game rolled around this week, it was again the Croat who proved to be the weak link in Liverpool's system.
In March, with United keen on playing long to towering striker Romelu Lukaku, it was imperative to their strategy that he dominate his direct opponent in the air. The ploy was a transparent one, and yet Liverpool seemed so utterly flummoxed by it.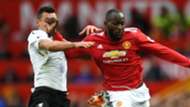 When Liverpool completed the signing of Virgil Van Dijk from Southampton, there was an understanding that it would serve to combat precisely this sort of barrage. More pointedly though, it meant one of either Lovren or Joel Matip would be dropped to the bench.
Ultimately, the Cameroon international drew the short straw, and Klopp's decision to stick with Lovren for the game at Old Trafford set the tone for the centre-back hierarchy at Anfield. Matip's career-ending injury ultimately established it, at least for now, although yet another shaky showing by the Croatian seems now to have thrown the matter up in the air.
Lovren's latest error, another blemish on a big occasion for the Reds, must now ensure that Klopp reconsiders his favoured partner for Van Dijk this summer.
Certainly, against Lukaku, one would have fancied Matip, who's taller than Lovren, to have fared better than his teammate.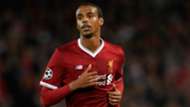 However, the former Schalke man may be bigger, but he's won considerably fewer aerial duels on average than Lovren this term (2.3 to 3.7). However, his success rate is greater overall. This suggests a more measured approach to picking his battles, more consideration than instinct.
That certainly would have been useful against United, when Lovren tracked Lukaku deep and contest the aerial battle only to leave a huge hole, one which Marcus Rashford exploited without mercy. Similarly, against Roma, the centre-back misjudged the trajectory of the ball and missed a header to let Edin Dzeko in to pull a goal back for the visitors.
Another big moment, and another Lovren lapse.
Defending is a complex thing: minding the position of the ball, your direct opponent, as well as your own defensive line all at once is not an easy ask. In both incidents, a little less impulsiveness was required.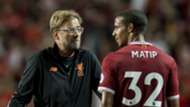 Against United, Lovren's ill-advised comments in the build-up to the game, jibing at United's less expansive style, betrayed an emotional, overwrought state, and he's often appeared keen to deliver standout performances in the big games...as if to prove a point that he's not the liability he's often portrayed to be. 
By his very style, the entire point of Dejan Lovren is physicality.
His inability to provide it when it counts should, at the very least, re-open the discussion, and bring Matip back into major contention when the 2018-19 season rolls around.
The Reds' sublime, Mohamed Salah-inspired forward line, their continental form and the arrival of Naby Keita will ensure that title aspirates abound at Anfield next term. Unless Klopp makes the right call in defence, the Merseysiders' Achilles Heel may again let them down.