Stats
Forget Griezmann and Rashford, Belotti is the striker Manchester United need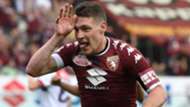 ---
ANALYSIS
---
Whether or not Zlatan Ibrahimovic returns from the setback of a torn cruciate ligament and takes the field again for Manchester United, the club must begin to prepare for life without the outstanding striker.
At 35, Zlatan is coming to the end of his incredible career, and is yet to commit to a one-year extension at Old Trafford. The good news for United is that there is no shortage of possible successors to his goalscoring crown.
RUMOURS: Mbappe decides destination
The bar, however, has been set extremely high by the former Paris Saint-Germain man. This is demonstrated by Opta's Expected Goals (xG) model that measures how likely a particular shot is to be scored based on distance to the goal, angle to the goal, assist type, whether or not it was headed and a variety of other factors. This assigns an xG value between 0 and 1 that reflects how likely the shot is to be scored. So, for example, 0.3 xG means a shot will typically be scored 30% of the time.
When Ibrahimovic takes the field, he averages 0.44 xG every 90 minutes. This figure is superior to his direct replacements in the current United squad. Marcus Rashford, for example holds an xG of 0.39, while Anthony Martial has recorded a modest 0.24 in the Premier League so far this season. The veteran scores 0.55 non-penalty league goals per game, compared to 0.31 for Rashford and 0.34 for Martial.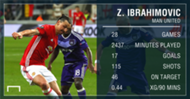 And while Rashford boasts a slightly greater xG per shot than Zlatan - 0.15 compared to 0.11 - the Frenchman trails far behind at just 0.07 xG per shot. It is clear that in the current Red Devils squad Jose Mourinho can only count on two of his strikers to come up with the goods on a regular basis.
The answer, then, may be to venture into the transfer market for a replacement. The name on everyone's lips is Antoine Griezmann, to whom United have been linked for the summer. The Atletico Madrid man certainly has the pedigree to succeed, as his sterling performances in Spain have demonstrated.
Hated Leipzig the future of the Bundesliga
But there is some doubt as to whether he can provide the same firepower as Ibra. Griezmann's xG per 90 minutes is 0.32, some way shy of Zlatan's figure and behind even Rashford. He does of course bring a lot more than goals to the team but as a primary marksman the jury is still out on the France international.
In fact, the only striker United have been linked with who not only matches the Swede's numbers but has out-fired him over the course of the season is Andrea Belotti of Torino. He's enjoying the season of his life, and boasts a higher xG per 90 minutes (0.51), non-penalty goals per 90 minutes (0.79 to 0.55) and a better xG per shot ratio (0.13) than Ibrahimovic.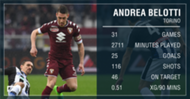 It must, however, be pointed out that Belotti, who has also been linked to Arsenal, is scoring at a rate significantly above expected, which suggests this current goal-scoring rate may not be sustainable, although even if he drops back to his xG/90 rate he would still be almost on a par with Zlatan this season.
It is clear that there will be no easy answer for Mourinho as he seeks to replace the man who has been the undoubted star of a mixed season at Old Trafford. But while Griezmann is the hot favourite to switch La Liga for the Premier League come the summer, Belotti's spectacular goalscoring form should make him a firm alternative to lead the United attack.