Kenya
FKF bow to pressure, drops controversial law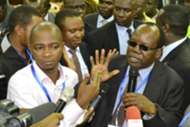 Football Kenya Federation has backed off from the initial proposal to increase the term limits of its officials.
FKF has been under the magnifying lens ahead of Saturday's Annual General Meeting currently ongoing in Mombasa where the affiliates were set to amend the constitution to increase the president's term limit by a further four years.
But the supreme body dropped the controversial amendment that proposed to increase the term limit from two to three of four years each.
Instead, the federation aligned its constitution with the Sports Act 2013 which allows for two-year term limit of four years.
According to the new law, all elected officials of the federation will now hold office for a maximum period of two terms of four years should one be re-elected.
Had the AGM adopted the proposal, FKF President Nick Mwendwa and National Executive Committee (NEC) members could have ruled for a total 12 years were they to be re-elected to office for the next two terms.