eSports
FIFA 19 Ultimate Team: Mike LaBelle offers his best FUT advice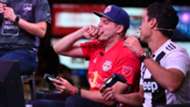 FIFA 19 has been out for less than a month and players are beginning to shape the Ultimate Team squads they want. While the grind for coins is still ongoing, most people won't have Icons anytime soon - even some pros.
Goal spoke with New York Red Bulls' pro FIFA player Mike LaBelle to breakdown his 4-2-3-1 squad lead by La Liga superstars Gareth Bale and Lionel Messi. Check out the full interview below...
What one FIFA 19 player do you want to add next?
"My next purchases will definitely be adding Cristiano Ronaldo and a couple of Icons in the midfield. I'm really itching to try out Rui Costa and Hernan Crespo this year, I think both of those cards could be a lot of fun."
Who is your most expensive player and are they worth the price tag?
"Of course it's Messi and the simple answer is YES! This is the best Messi we've seen in a FIFA title to date in my opinion.
"Most of the time EA has defaulted Messi to a winger position, but he is naturally so much better as a centre-forward or central attacking midfielder. He turns so quickly and with finesse shots currently being overpowered, FIFA 19 caters towards what Messi does perferctly."
Who is the MVP of your squad and were there any players that completely exceeded your expectations?
"My most valuable players are easily Messi and Bale, which makes sense based on their ratings and price points, but I do want to give credit to both Adrien Rabiot and Geoffrey Kondogbia, who hold down the midfield consistently in each match.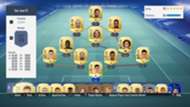 "If you are looking for budget pick-ups, I would recommend both of those guys, especially Kondogbia who is a SPECIAL player for his rating. At 6'2" he has a massive presence on the pitch and is able to utilise his four-star skill moves almost unexpectedly versus other midfield counterparts."
Which player have you been most disappointed with and why?
"Real Madrid's Keylor Navas in goal just wasn't cutting it for me but I know goalkeepers are so subjective in terms of how each individual FIFA player judges their performance. For a player that's so highly rated, I personally had much higher expectations of him.
Is there a player from the New York Red Bulls that could fit into your squad? Especially with the eMLS still requiring players from your represented club.
"Last year the eMLS required two players from the club you represent plus a third player of your choosing from Major League Soccer. It's also worth noting that no Icons were permitted!
"This year with New York Red Bulls we fortunately have options! Due to their performance on the pitch, almost all of their players have been upgraded for FIFA 19.
"I will try out Bradley Wright-Phillips, Tyler Adams, Kemar Lawrence, Aaron Long, Tim Parker, Royer, Kaku and Michael Murrilo to see who fits best in my squad.
"In-forms or special cards could also impact choices heavily. It's nice to see Bradley has already received an early in-form in this year's installment."
Are there any players who you think are deserving of an upgrade to match their real life attributes and why?
"If you talked to the New York Red Bulls players I'm sure most the guys would say they deserve better card stats! The MLS isn't known to be rewarded as a league by EA.
"Considering Tyler Adams is on the USA National Team and his standout performance on the New York Red Bulls I think a 72 overall is a bit low for his rating. I also disagree with a 45 shooting and a 61 passing for a central midfielder."
Is there one player you've built your squad around or a general area of focus?
"Currently I would say my squad is built with balance. We defend by using the size and athleticism of the players as a major advantage in the majority of match-ups on the pitch.
"When attacking I've put together a more agile squad to maximise the small gaps of space on the pitch with the likes of a Modric, [Quincy] Promes, and Messi. Bale is used a bit more direct, and sneaks into back post crosses well as an aerial threat."
Finally, what was your reason behind opting for the 4-2-3-1 formation? Have you found that's the best in the game or just suits your personal style?
"I'm still testing out multiple formations, but I like the support you get from the 4-2-3-1. It's a classic formation that offers easier control when attacking and defending. You can dictate the pace of the match well, which is easier said than done in FIFA 19."
Check out Mike explaining more about the best formations to use on FIFA 19 right here!