eSports
FIFA 18 Ultimate 11: Sergio Ramos voted best center back in the world by the fans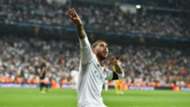 Real Madrid and Spain's center back, Sergio Ramos won the poll GOAL.COM launched in partnership with FIFA 18 to know the world's best center back according to the visitors.
The Sevilla FC academy product was given 63% of our visitors' votes and took the undisputed lead.
The 2nd place was occupied by Juventus center back Giorgio Chiellini with 18% of the votes, ahead of his former teammate Leonardo Bonucci  who occupied the 3rd spot with 10% of the votes.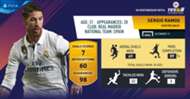 The fourth spot in the poll was taken by Bayern Munich's defender Mats Hummels who gathered 7% of the votes, whereas his teammate Jorome Boateng got 2% of the votes in the poll, placing him in the 5th place.
The fans selected Juventus legendary shot-stopper Gianluigi Buffon as their number one choice for the FIFA 18 Ultimate 11, while Dani Carvajal was chosen as the best right back.