Federation Cup
Federation 2017 - Sunil Chhetri: 'Bengaluru FC winning four trophies in four years is outstanding'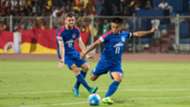 Sunil Chhetri, the skipper of Bengaluru FC, was ecstatic as his team swept to a Federation Cup final victory over Mohun Bagan on Sunday, 21st May at the Barabati stadium in Cuttack, Orissa. 
The Blues capsized the Mariners' hopes of ending the season with silverware, when Chekiyot Vineeth struck twice in Extra-Time, seal a second domestic cup for the Garden City side.
Though injured in the semi-final and repressed to a mere spectator's guise for the showpiece final, Chhetri was in celebratory mood while speaking to the media after the trophy had been lifted.
"I've always maintained that they (Mohun Bagan) have a very good team and they showed it. However, right from minute one, we showed  intensity. Big respect to Bagan - I think they played really well. We created much more chances though and I think a couple of goals were disallowed. At the end, we were victorious 2-0, and I'm so happy and proud of the team," stated Chhetri, whose voice was high-pitch with joy. 
The Indian national team's record goal scorer was awestruck by Bengaluru's record with winning trophies, explaining, "You can never predict the future and can never say you're going to win trophies but it's what our team desires a lot. Four trophies in four years is outstanding. It's what we've done last year, it's what we have done this year and it's what we are going to continue doing. This trophy was outstanding."
Perfect season for Perfect Real Madrid 
Quizzed on the palpable sense of despair in the Maroon and Greens' camp, the former Bagan striker was rational in his opinion.  
"It's (losing) part and parcel of the game. There were times when Mohun Bagan have won against us in the last 5 minutes when we were at home and were rejoicing when we were sad. It happens," he clarified.  
On Bagan lynchpin Sony Norde's reaction to the defeat, the Hyderabad-born reasoned, "Sony's a great friend and great player. I'm sure he'll get over this."  
The spotlight turned to his participation in the celebrations with Albert Roca's squad and when asked how he planned to draw in the victory, he jovially replied, "I saw him (Chhetri) dancing inside."
Questioned on his ongoing recovery from a hamstring tear, Chhetri elucidated, "It's going to take some time. I'm being got patient. The moment I start putting pressure, the recovery will not go according to plan. Right now I'm taking it one day at a time."
With the shadow of the U17 world cup looming over India, the former India skipper was quizzed on what he anticipated as a patron of Indian football and his message to those behind the line as organizers of the tournament.
"It's a lovely time for Indian football touchwood and I hope we can keep it up knowing our country's potential. We need to keep our heads down and work hard in every department. Not only the players - but the coaches and the Federation have to work hard and together we have to move forward," communicated the 31 year-old.   
Finally, prodded on Bengaluru's participation in the Indian Super League (ISL) with the club having picked up the Invitation To Bid (ITB) document for new franchises, the Bengaluru number 11 was asked on his future with the tournament, to which he concluded, "I don't know what lies ahead. All I know is that the document has been picked up."