Transfers
FC Dallas signs midfielder Santiago Mosquera as designated player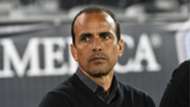 FC Dallas has announced the acquisition of midfielder Santiago Mosquera as a young designated player.
The 23-year-old joins from Colombian first division side Millonarios FC.
Mosquera made his professional debut in March 2016 and has gone on to make 54 appearances for the club, scoring eight goals.
The Pacifico FC youth product can play multiple positions in midfield, including on either wing and as a playmaking No. 10. 
"Mosquera has all the things we were looking for this offseason," FC Dallas technical director Fernando Clavijo said in a club release.
"He plays specifically how Oscar [Pareja] would like to play. It was not an easy signing because he is a very high-quality player. He will make us better, for sure. He allows us to open up space on the field for Mauro [Diaz] and have a strong offensive lineup."
Mosquera spoke about how conversations with the FC Dallas head coach sold him on the move to MLS. 
"[Oscar] talked to me about why he brought me, what the game plan is, the tactics he plans on using," Mosquera said. "He was showcasing his trust towards me, he has high hopes for me. I hope to live up to his expectations the best way possible and to be able to back up the trust he has given me."
FC Dallas gets its season underway on Feb. 21 when it faces off against Panamanian side Tauro in the CONCACAF Champions League. It is unknown whether Mosquera will feature for that tie, but Pareja did note his new midfielder arrives with a full preseason and was "in full competition in Colombia" prior to the move.
The MLS side's league season kicks off on March 3 against Real Salt Lake.