Cape Town City
EXTRA TIME: Watch Thabo Nodada train during radio interview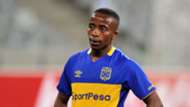 The Citizens' midfielder is now part of South Africa's squad for the back-to-back matches against Seychelles.
He still needs to convince coach Stuart Baxter that he deserves to start games after Bafana Bafana beat Seychelles 6-0 without him although there can't be any questions about his fitness.
A player might boast about his training regime during a television interview, but here, Nodada is working out during a radio interview.
We can't see him through the airwaves but the journalists at the Heart Radio Station created this video, and you can see Nodada doesn't want to waste any time during his interview.
He decides to continue to make the most of his fitness regime. You can watch the video here thanks to Cape Town City's official Twitter.
It was no accident that Thabo Nodada was called up to the national team! 🇿🇦 He works tirelessly to maintain his elite fitness levels  Even in studio with @Heart1049FM @Sugafunk @jeremyharris55 @JoDee_Butler #Drive326 #iamCityFC #HEARTisCityFC @ThaboNodada26 pic.twitter.com/erw6N2FGp8

— Cape Town City FC (@CapeTownCityFC) October 12, 2018