African All Stars
EXTRA TIME: Ronaldinho, Rivaldo, Cafu and other legends storm Moroccan anniversary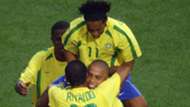 Brazil legends Ronaldinho, Rivaldo, Cafu alongside Argentina's Javier Saviola, France's David Trezeguet and Colombia's Carlos Valderrama graced Morocco's 43rd anniversary of the Green March in Laayoune.
Green March was a peaceful mass protest by 350,000 Moroccans to force Spain exit from Western Sahara back on November 6, 1975.
43 years ago, Moroccans under the leadership of King Hassan II marched into the southern provinces in the Sahara to reclaim sovereignty over a key part of its territory from the Spanish rule.
Alguém aí bota contra? kkkkk Bom demais encontrar esses grandes parceiros aqui no Marrocos 🤙🏾 🇲🇦 pic.twitter.com/gZtF4bJP4d

— Ronaldinho Gaúcho (@10Ronaldinho) November 6, 2018
Awesome to be in Marrakech with these friends and Legends!!! @Trezegoldavid @PibeValderramaP @RIVALDOOFICIAL @GilbertoSilva @TinoasprillaH @higuitarene pic.twitter.com/4xy8fyRIRl

— Cafu. (@officialcafu) November 6, 2018
Siempre es una alegría verte amigo ! @10Ronaldinho pic.twitter.com/M449ZrdUgr

— Rene Higuita (@higuitarene) November 6, 2018
Ronaldinho had waved Morocco's flag on sand dunes before the encounter that had Atlas Lions boss Herve Renard in action in the Stade Sheikh Mohamed Laghdaf.
🤙🏾 🇲🇦 😎 pic.twitter.com/ZELrbm31g0

— Ronaldinho Gaúcho (@10Ronaldinho) November 6, 2018
Pour célébrer le 43ème anniversaire de la marche verte quand tout un peuple uni répondant à l'appel de son roi partait à la conquête pacifique de son territoire, match de gala à Layoune.
Bonne fête nationale 🇲🇦 pic.twitter.com/fby00Ywz8w

— Hervé Renard (@Herve_Renard_HR) November 6, 2018