PSL
EXTRA TIME: Nathan Paulse on why Cape Town backs rugby ahead of soccer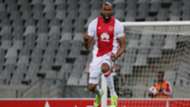 It is the head coach, McCarthy and boss Comitis who felt that Cape Town unfairly accommodated rugby matches ahead of soccer in the city.
Here Paulse gives us a reminder why that is so, the millions of rands pouring into the town thanks to the massive following of rugby in stadiums. There's a big difference between saying that soccer is more popular, compared to rugby where the fans are actually arriving at the stadium in their numbers. 
Paulse asks a good question about how we can solve this problem, to make the fans pitch up.
Whatever the truth is, Cape Town needs to accommodate their PSL club with home matches in the city. This is a problem that recently also applied to Ajax Cape Town as venue options are drying up with the hot weather and lack of water, making it difficult to prepare Athlone Stadium as an alternative.
So, both Ajax and City had to play their most recent home games outside of the province and that could hurt the latter's title chances.
Now we know why such events takes preference over local football,supposed No1 sport.
So instead of playin blame game...let's learn & find ways how football can eventually grow to such levels as spectator sport & produce proper consistent revenue for all, not just select few pic.twitter.com/4HEeF5x52P

— Nathan Paulse (@natespaulse) December 7, 2017