Kaizer Chiefs
EXTRA TIME: Kaizer Chiefs fans new hope while Sundowns boast fuller stadiums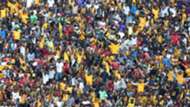 The feel-good factor has risen with Kaizer Chiefs reaching the semi-finals of the MTN8. 
They truly impressed with a 3-0 hammering of Free State Stars in the quarter-finals. With Chiefs boasting Mamelodi Sundowns maestro Khama Billiat in their ranks these days, the banter is increasing between the clubs.
Here you can see Sundowns fans pointing out on Twitter that they got more fans into their stadiums than Amakhosi.
It's a point they wanted to make since Chiefs and Pirates fans always point out that they're the most popular clubs in the country. You can also read quite a comeback in the Twitter reactions from Chiefs fans who illustrate that their supporters come from all around the country in high numbers. 
Well, Amakhosi take on Baroka FC on Tuesday night, so let's see what the numbers are like there. 
Speedy recovery brother @KaizerChiefs   pic.twitter.com/C0we7GRFNB

— IIKHUNE3216 (@IIKHUNE_32_16) August 11, 2018
Happy Kaizer Chiefs fans. pic.twitter.com/6WsldPWZ8D

— Lunga Budu (@LungaBudu1) August 12, 2018
Kaizer Chiefs fans celebrating becos they scared of The Ghost  ons gaan julle kry 

— glenzito (@GlenLewisSA) August 11, 2018
How we should line up ksasa @KaizerChiefs v @Baroka_FC #HailTheChief #Amakhosi4Life pic.twitter.com/AbW6nDNGer

— Zakhele Mtolo (@Zakhele) August 13, 2018
The 57 of us of #Sundowns VS Full House FC of Kaizer Chiefs... #MTN8 #wafawafa pic.twitter.com/5xkjjlpVVh

— Madumetja Mario (@MadumetjaMario) August 11, 2018
Since Idiots FC caught feelings,let also use images of when the matches had started playing... #NoDifference pic.twitter.com/TzH6fSeCOO

— Madumetja Mario (@MadumetjaMario) August 13, 2018
Lmao comparing FNB stadium to whatever that is if it's a stadium...why not use the matches that Chiefs play here in Durban?? coz u know it's always full

— TheEyeOfÖzil (@masahndlovu0) August 12, 2018
But oksalayo downs fans fails to fill up Moripe stadium on free entry   pic.twitter.com/6RoHuz1mNQ

— Enoch (@enoch_jabu) August 13, 2018
Lol u can't compare a big team dat host their home games at big stadium in the continent of Africa with a team play their Games at Lokshin G

— Sir Erney  (@SirErnest6) August 13, 2018
@robertmarawa #MSW I would like to know the deal between Kaizer Chiefs & FNB stadium. Who is benefiting.The picture we see for Chiefs games there is not good for the image of the team. If Chiefs is benefiting there by not paying much then they infact hurting the brand

— Taribo Lito (@taribo_lito) August 13, 2018
Match Day: Baroka FC vs. @KaizerChiefs Best of Luck Glamour Boys #Zizojikizinto #HailTheChief #Amakhosi4Life #AbsaPrem pic.twitter.com/dejPMVHYnc

— Shasha (@xhante7) August 14, 2018
He'll never score at Kaizer Chiefs they said. He'll play alone at Chiefs they said. Well done Khama Billiat  #MTN8 pic.twitter.com/EJ1rzqwJZt

— Mbaliyezwe Ndlela (@mbali_ndlela) August 11, 2018