WTF
EXTRA TIME: Fans conclude Masuluke's goal was better than Kaizer Chiefs' Shabba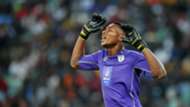 Do you agree? You got a chance to have a second look at both goals below, and then decide yourself.
Shouldn't the Oscar go to Oscarine Masuluke? Or, was that delightful chip and vision from Siphiwe Tshabalala better?
They're both amazing goals, but you have to also admit that Masuluke's goal is going to be difficult for any goalkeeper to beat.
Should we say it's better just because he's a keeper? Should Shabba be disadvantaged for not being a keeper? That's maybe why Shabba won.
In the meantime, enjoy the banter between the fans right here.
Backstage at the #PSLawards with the #BestoftheBest good luck gents pic.twitter.com/vsi3aooqMl

— Altaaf Kazi (@CSA_MediaMan) July 10, 2017
Oscarine's mission was to score and he scored a brilliant amazing rare type of a Goal. #TrueStory #PSLAwards

— Ndlovukazi (@SarahMthembu2) July 11, 2017
There will be always controversy after every awards. Controversy everywhere. #PSLAwards

— Les Matsemela (@innocent_lesiba) July 11, 2017
#PSLAwards Masuluke's goal trended worldwide, it put #PSL on the map but was not rewarded shame

— Modise (@ModiseWaTshwane) July 11, 2017
This should have won 'Goal of the Season' though.... pic.twitter.com/aLG0OzldeL #PSLAwards

— R.E.Q.U.E.S.T.E.D (@The_Kayda) July 11, 2017
This wonderful strike by Siphiwe Tshabalala is nominated for goal of the season at the #PSLAwards. See if it wins - LIVE on SS4 at 21:00. pic.twitter.com/ilawTn5g2H

— SuperSport (@SuperSportTV) July 10, 2017
Those who worked hard were rewarded #PSLAwards Those who tried were nominated and those who didn't were watching others rewarded.

— Tumisho Mashasha (@TmanMashasha) July 11, 2017