WTF
EXTRA TIME: Could Benni McCarthy be South Africa's Zidane or Pep Guardiola?
Zain Khan and Ignat Manjoo
Journalist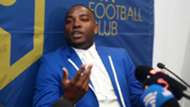 Cape Town clubs Ajax and City have been enjoying the banter between one another in recent times. Sometimes the banter is friendly and sometimes it's not so friendly.
However when you see the club Ajax Cape Town and their current players come out and applaud Benni McCarthy, to get behind his appointment at their fierce local rivals, then it underlines what a figure the Bafana Bafana legend is in this country!
Zidane took over one of the greatest teams in history of world football with no experience&look what he has achieved!! Benni is CAPABLE

— Mark Mayambela (@ProfMayambela12) June 12, 2017
Benni McCarthy was my favourite player when I grew up. Our Bafana Bafana hopes rested on him in the same way a Liverpool fan crossed fingers for Steven Gerrard or a Manchester United fan hoped Ryan Giggs could make something happen. Similarly, McCarthy inspired so many kids growing up in Cape Town. Over the last year, you could see he's been itching to land his first head coach position. He was probably itching too hard, and when Orlando Pirates didn't choose him, you wondered if he'd take any job to just prove himself. 
I must admit that I never expected to see McCarthy in the hot seat. I can say the same for Gerrard at Liverpool. The latter is now coaching the U18's at Liverpool and has openly spoken about wanting to be the manager of the first team. You can see the same burning determination from Gerrard and McCarthy. Both legends at club and country. You also saw this with Ryan Giggs who served as assistant to Louis van Gaal. I had a feeling that we'd see Benni as assistant at City, so it's a brave decison for John Comitis to make him the main man instead.
You'd wonder why I'm mentioning these European players abroad. Well, I believe their success influenced Comitis and many other club owners, in demonstrating how it's worth taking a risk on retired star players. Mark Mayambela stole the words from my mind. It is due to Zidane's most recent success in making history with Real Madrid, the first team in the modern era to defend their Uefa Champions League crown. Amazingly, he also won the La Liga title this season! Of course we can't make a like-for-like comparison between South Africa, La Liga, Cape Town and Real Madrid. Zidane learnt the trade as assistant to one of the best coaches in history, Carlo Ancelotti. McCarthy's claim to fame is that he learnt the trade by playing and training for Jose Mourinho at FC Porto, where he also won the UCL.
Ever since Pep Guardiola became the most highly rated coach due to his success at Barcelona and Bayern Munich, we kept hearing about 'The new Pep' and now we will hear about the 'The next Zidane'. I really didn't like these comparisons and here I am making one myself. Though, it's valid in our case, because Benni is our legend in South Africa and Cape Town.
What McCarthy achieved in Europe is unique for a South African and I feel that no matter how inexperienced Benni is as a coach, he deserves a chance some time. I'm delighted that he's finally got this chance, not just anywhere but right here, at home in Cape Town. This is the place where he can now continue his legacy in football and inspire the people of Cape Town in the coaching department too.