WTF
EXTRA TIME: Benni McCarthy: Cristiano Ronaldo should win the Ballon d'Or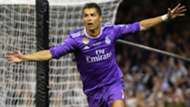 It's a bit early to make a conclusion for the 2017 award but with the main competition, the Uefa Champions League having concluded over the weekend, McCarthy is placing his bets on Ronaldo's table.
McCarthy once started a social media storm for choosing between Messi and Ronaldo. Then he went on to say that he likes both players and believes they're both great.
Now, he's said for sure that Ronaldo is the best player for 2017. Let's see how long it would be before he has to sidestep this latest remark on Twitter.
No matter what, Ronaldo has been the decisive factor (along with the referees) to get Real Madrid past Bayern Munich, Atletico Madrid and Juventus.
He's been knocking in those goals in the last three rounds for fun, even though Messi has outscored him throughout the season.
It was Messi who picked up the Golden Boot in Europe but who will win the Ballon d'Or?
Great experience but what a performance from @Cristiano. Yet again my World Player of the year Thank you Cardiff,you've been wonderful pic.twitter.com/jYwvxYElCM

— Benni McCarthy (@bennimccarthy17) June 3, 2017
Great memories here with my favourite trophy #UCLFinals #Cardiff catch me live on @SuperSportTV pic.twitter.com/GqrPOhx1rp

— Benni McCarthy (@bennimccarthy17) June 3, 2017