WTF
EXTRA TIME: AmaZulu's back in the PSL and Manyisa vs. Ndoro on Fifa 17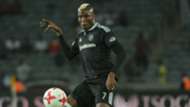 Oupa Manyisa took on Tendai Ndoro at a gaming festival. Would you like Orlando Pirates to send us a video of that match?
One can imagine Manyisa making a lot of short passes until Ndoro breaks away with a quick, powerful move to score.
In more serious news, Usuthu's back in the PSL! But, is this the real AmaZulu? The Durban based football club is receiving stick from social media about how they've returned to the top flight, by buying out Thanda Royal Zulu.
Share you feelings on the matter right here in the comments or on social media.
So they just swapped their status in other words??The game is being played in the boardroom,no more on the pitch

— Brent Carelse (@brentcarelse) July 6, 2017
Rich Boys from KZN according to their logo

— SAFPU (@SAFPU_Official) July 6, 2017
Bring it on skipper hope u've been practicing big man am ready to take u down https://t.co/zjTeM2mecQ#Fifa17 #VSgamingFestival pic.twitter.com/q6JXDATYew

— Tendai Ndoro (@Tendain07) July 5, 2017