Malaysia U23
Exclusive Part II: OKS fancies reaching knockout stage at China 2018, prefers Hodak's team at Asian Games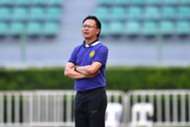 It's less than six weeks to go before Malaysia Under-23 team kicks off their 2018 AFC U23 Championship campaign against Iraq on January 10. The match scheduled to be played at Changshu Sports Centre will be the first time that Malaysia will participating in the tournament. 
Continuing on from the Part I of our exclusive interview with Ong, the 47-year-old head caoch is keeping his fingers crossed that Malaysia will not end their journey in the group stage. On paper, Malaysia are the lowest ranked team in Group C where Iraq, Jordan and Saudi Arabia will be providing the tests to the Young Tigers.
"Look at the groups. Every group including ours are tough. But with proper planning and luck on our side, I believe we can get through the group stage," Ong told Goal. "I believe also that Iraq will be the favourites. But among Jordan, Saudi Arabia and us - these three have a chance to qualify for quarterfinals.
"What we need to do now is not only for the players to be very focussed in what we want to do but I also have to analyse a lot on the opponent. I hope that with the time that we have in this one and a half month, it will be enough for me to implement what I want with the team."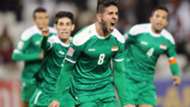 At the 2002 World Cup, France surprisingly lost to Senegal. While plucky hosts South Africa managed to hold the more fancied Mexico in the opening game of the 2010 World Cup. Opening matches tend to cause teams problems whether it's due to the pressure of the tournament or just purely because it takes time for teams to grow in a major tournament.
That is exactly what Ong is counting on in their favour when they take on group favourites, Iraq in the opening Group C match. Despite the odds being heavily in favour of the 2016 semi-finalist, Ong is looking to catch them off-guard on opening day.
"First game is always difficult. It doesn't matter who you are. Look at the World Cup. Look at us first game against Brunei. We struggled. Every team that played in a big tournament in the first game will struggle. It's either they make it or they don't. We are going into that match as underdog. We are not under pressure and we don't have to worry.
"If our approach is tactically right and the players give their 100% commitment, we might get something out of there. I won't say it's a disadvantage, it might an advantage to us instead. It's not up to them, it's up to us how we can spoil their game plan to get something out of it. I hope that when the time comes, I have all the players that are fully ready and fully fit to play."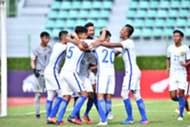 After the completion of the tournament in China, Ong's next prerogative is the 2018 Asian Games in Indonesia. But if he's given a choice, Ong thinks that the tournament is much better suited to a different team than the one he handles.
"For Asian Games there's no qualifiers, it's an one-off tournament. Let's say our U19 qualified (AFCU19) and they are preparing for the tournament in October. I think U19 will benefit much more than sending my players. Because those games are a one off.
"You can't expect anything for them, but it will be good exposure and preparations for them. It will be better for me after AFC U23, to think about SEA Games squad and qualifiers for 2019 which plays a part for the Olympic qualifications.
"Now that we have qualified, the next draw for AFC U22 qualifier, we are at minimum in the second pot compared to third and fourth pot previously. But if we qualified for quarterfinals in January, we will be in first pot. So the draw could favour us. We cannot think that when the qualifiers come in let's say June of 2019, and we only start preparing a team in April.
"It's better for me to think after finish this AFC U23, one-two months later, we start collecting data looking at players for 2019 SEA Games and at the same time, qualifiers. This is what I want to propose, but it's up to the management to decide."
The idea is sound and it shows the kind of forward thinking that Ong possess. Most of the players that he will take to China 2018 will not be eligible for the next batch of qualifications that will come later in 2018. Hence the desire to start anew as quickly as possibly makes perfect sense.
Many see Malaysia's hopes in China 2018 as one that is remarkably slim but Ong is secretly confident and believe that his team is ready to surprise a lot of people.