Videos
Everton winger Bolasie: My faith in God has helped me through injury nightmare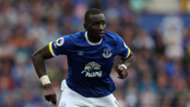 Everton winger Yannick Bolasie says his faith in God has helped him during his recovery from a serious knee injury.
The 27-year-old insists he does not hold a grudge against Manchester United man Anthony Martial, who put in the tackle which resulted in him picking up the problem.
And Bolasie says his recuperation is going well with his religion playing a big part in spurring him on.
Footage courtesy of Kicca.