Manchester United
Even Rashford's dive can't help injury-cursed Man Utd break back into the top four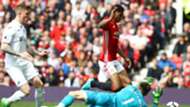 ---
COMMENT
---
The unbeaten run continues for Manchester United, but so too does the overwhelming frustration. A 10th home draw this season ensured that the top four remains ever-elusive on a day which will almost certainly be remembered most for Marcus Rashford's hatchet job on Swansea City goalkeeper Lukasz Fabianski and the gullibility of referee Neil Swarbrick.
Sigurdsson earns Swansea deserved draw
After having their suspicions confirmed by video replays at half-time, Swansea fans took to chanting "1-0 to the referee" as Swarbrick and his fellow officials re-emerged following the award of a match-changing penalty in first-half injury time.
In truth, it was their subsequent booing of Rashford's every touch that was more appropriate, given the way the England striker had fooled the officials into thinking Fabianski was at fault for the contact between the two close to the bye-line.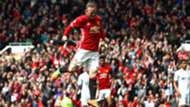 As Rashford approached the Swansea goalkeeper, Fabianski realised he was not going to be able to make clean contact with the ball and so pulled his arms away from the challenge. Rashford's response, after nudging the ball to his left away from the prone keeper, was to edge his way to the right in order to initiate contact between his right shin and Fabianski's arm.
While Peter Staunton may well have argued that players exaggerating contact is fair game, Rashford's pre-meditated cheating is the kind of incident which needs discouraging. If football has become entirely about 'a means to an end', then can it really be called 'The beautiful game' any longer?
Rashford dive enrages social media
United fans might have a point in claiming that countless refereeing decisions have gone against them this season, with the Rashford incident being a drop in the ocean in comparison.
However, by deliberately colliding with Fabianski and then over-egging the damage caused, the England international was blatantly going out of his way to coax an incorrect decision out of the referee. That Swarbrick consulted first with his linesman showed there was some question in the main official's mind, but ultimately he was persuaded that the contact was likely caused by the goalkeeper.
The officials couldn't have been more wrong. As former referee Graham Poll told BT Sport: "It's a dive and, therefore, a yellow card for Rashford."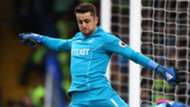 Swansea boss Paul Clement, meanwhile, understandably felt cheated. "Seeing the replay, [Marcus Rashford] has deceived the referee," he fumed. "It's clear. There's no other way to look at it.
"The ref seemed to have some doubts because there was a big delay and I spoke to him afterwards and he said he was only receiving confirmation from his assistants.
"It was a mistake. He went down way before there was contact. Lukasz was furious. He was furious. He said 'I've gone down to get my hands on the ball, and I can see that now I can't get it so I've come away from it and he's gone down before the contact.'"
It was a measure of justice that Swansea would grab a wonderful equaliser in the final quarter. Wayne Rooney, who had converted from the spot to give United the lead, clattered into Jordan Ayew 25 yards from goal and Gylfi Sigurdsson stepped up to sweep a curling effort beyond an unmoving David de Gea.
Is Mou partly to blame for injury crisis?
Add in injuries to Luke Shaw and Eric Bailly, which left the home side with a distinctly weakened look at the back, and it was yet another trying afternoon for Jose Mourinho, who deadpanned afterwards: "At the moment, we could walk from the bed to the toilet and break a leg."
On the bright side, United are now unbeaten in 25 top-flight games - a club record -  but a more accurate reflection of their campaign is to be found in the fact that they have now equalled the record for draws in a single Premier League season (10, alongside Sheffield Wednesday and Leicester City).
However, it will be the actions of Rashford, who so often grabs the headlines with his thrilling forward play and fearless approach to the game, which will mean this game is likely to have far greater consequence in the inevitable introduction of the Video Assistant Referee (VAR) than it does in the allocation of Champions League places come May 21.