Transfers
'Eriksen is better than Modric, he'd be a star at Real or Barcelona'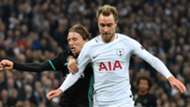 Tottenham midfielder Christian Eriksen is better than Luka Modric, and can one day play for Real Madrid or Barcelona, according to Denmark coach Age Hareide.
Eriksen has been in fine form for Spurs this season, dominating games against Juventus and Real Madrid in the Champions League.
The 26-year-old has scored 11 goals and provided 10 assists in all competitions, with Spurs aiming to finish in the top four and win the FA Cup.
Hareide has hailed the playmaker, insisting that he would be a star at La Liga's biggest clubs amid speculation of interest from Barca and Madrid.
"I think he is a type that can adapt to anything," he told Ritzau, via Tipsbladet . "Give him a ball, then the ball will speak for him wherever he is. Christian is a type that just gets better from dealing with better football players.
"When looking at the players that play centrally for Real Madrid and Barcelona, ​​none of them are better than Christian.
"Luka Modric came from Tottenham to Real Madrid, and he was not as good as Christian."
Modric, by comparison, has scored twice this season, while providing five assists, and the Croatian has been linked with a summer move away from Madrid.
Eriksen has previously claimed that he is "very happy" at Spurs , amid talk the club are poised to open contract talks with a number of stars, including Son Heung-Min.