Barcelona v PSG
'Emery is a winner and must continue' - Dhorasoo calls on PSG to retain coach despite Barca defeat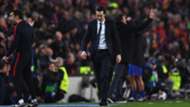 ---
EXCLUSIVE
---
Paris Saint-Germain need to persevere with coach Unai Emery despite enduring a crushing Champions League setback, says former midfielder Vikash Dhorasoo.
A 6-1 defeat to Barcelona at Camp Nou in midweek has left many of those at Parc des Princes facing some uncomfortable questions.
Mathieu: PSG showed no respect
Emery is at the head of that queue, despite being lauded just a couple of weeks earlier for masterminding a 4-0 victory over Barca on home soil.
The Spaniard has, however, been around the coaching game long enough to know that you are only ever as good as your last result.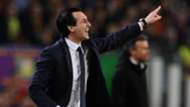 Unfortunately for him, that was a demoralising setback of epic proportions and one which has seen his future in the French capital called into question.
With PSG's European campaign over, and with there no guarantee that their grip on the Ligue 1 title will be maintained this season, it has been suggested that Emery's reign could last just 12 months.
Dhorasoo, though, believes that the club should keep the faith with their current set-up and give a man who was acquired on the back of considerable success at Sevilla an opportunity to prove his worth.
Jardim: PSG defeat bad for France
The ex-PSG and Milan midfielder told Goal: "He must continue. He is a winner.
"Football players, and therefore those at PSG, always want to win. The club have no choice here.
"This is how the job goes sometimes and you have to find a way to deal with these things."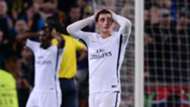 Emery saw his PSG side concede three times in the final seven minutes at Camp Nou to crash out of the Champions League, with Dhorasoo admitting that such a collapse is difficult to explain.
He added: "With 30 seconds to go Emery is still a genius. He then becomes the guy who lost PSG the game and unfortunately must take responsibly for it – as he was responsible for the first leg.
Barca vs PSG ref facing demotion
"What is most disturbing is that we were allowed to dream, we believed so much and it was beautiful. To descend to such a level leaves you wondering how this happened."
PSG return to action on Sunday with a trip to Lorient that will see them attempt to keep pace with Monaco at the top of the Ligue 1 standings.