Sevilla
Eight Sevilla fans injured as barrier collapses in Eibar stadium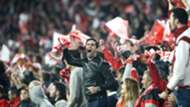 Eight Sevilla fans have been injured after a barrier collapsed during the La Liga game at Eibar on Saturday.
Railings in the away section of the ground gave way as supporters celebrated the second goal of the visitors 3-1 win.
Ever Banega's penalty which put Sevilla into a 2-0 lead sparked wild celebrations among the travelling support, some of whom spilled onto the pitch.
Play was stopped for six minutes to allow for those fans affected to be treated, with eight individuals eventually taken to hospital.
Two fans were carried away on stretchers but Eibar have confirmed that no-one suffered serious injury.
Los aficionados del @SevillaFC trasladados al hospital han sido ya dados de alta, con una posible fisura de escafoides de uno de los heridos y traumatismos en el resto de casos. Les deseamos a todos una rápida recuperación #EibarSevilla
— SD Eibar (@SDEibar) September 29, 2018
The club later announced that all those caught up in the incident had been discharged from hospital after receiving treatment.
Sevilla boss Pablo Machin said: "It seems that there is not going to be any disgrace of consideration. 
"May this victory make them recover as soon as possible. That it does not happen again, surely it is bad luck."