Manchester City
'Ederson in world's top three goalkeepers' - Man City star among global elite, says Nuno Gomes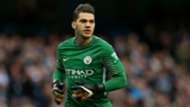 Manchester City's Ederson is "already one of the top three goalkeepers in the world", according to Nuno Gomes.
With Pep Guardiola once again in the market for a ball-playing option between the sticks in the summer of 2017, £35 million was invested in a highly-rated talent at Benfica.
Ederson was immediately promoted to the No.1 spot by City, but required little adjustment period as he has impressed from the off for the runaway Premier League leaders.
Still only 24 years of age, there is the promise of even more to come from a man who is already being placed alongside the likes of David de Gea and Manuel Neuer at the top of the global goalkeeping game.
"Ederson is already one of the top three goalkeepers in the world," Benfica legend Gomes told Goal.
"He may already be the best in the world, and much of that is down to his humility. I hope in that sense that he never changes.
"He also has a lot of work focus. He felt early in his career that nothing can be achieved without work, and he had a difficult time in Portugal.
"He only got to where he is now because of hard work, maintaining focus and giving even more than others do.
"He has already reached such a high level, but he can be even greater because he continues working in the same way. He knows he cannot stop to rest.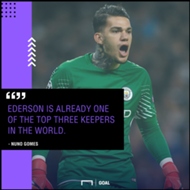 "Today he has the stardom, the success, but he has experienced failure, because it did not work at the beginning with Benfica.
"He was loaned to a team [GD Ribeirao in 2011-12] that maybe no one knew. But he went, played, worked, grew up and got a new opportunity to play for Benfica. He proved that he deserved to play and never left the team [at Benfica]."
Another of those to have made their way to Manchester following humble beginnings at Benfica is Bernardo Silva, with the 23-year-old also making his mark on the world stage.
The Portugal international only made three senior appearances in his homeland before linking up with Monaco, but has gone on to become a performer worth £43.5 million.
"Bernardo Silva is a player that enchants me, one that I like very much," Gomes added on a man who has added a Carabao Cup win with City to the Ligue 1 title he secured in France.
"Although he is not yet an undisputed starter of the national team, and because he depends a lot on how Fernando Santos will set up the team, Bernardo, for his charm, for his intelligence, for being balanced, is another important figure for Portugal."