Ligue 1
Ederson and Alisson should thank their team-mates for great stats - Mendy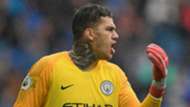 Reims goalkeeper Edouard Mendy has underlined the importance of a full team effort in allowing him to match Manchester City custodian Ederson and Liverpool shot-stopper Alisson as Europe's best in terms of clean sheets.
Mendy has completed eight shut-outs in Ligue 1 this season to match the two Brazilian superstars in England.
Given that the Champagne club only earned promotion from the second flight in the summer, it is a remarkable achievement, though the 26-year-old keeper says his exploits are at least in part thanks to his colleagues.
"The stats don't lie," he told Goal . "But it's a bit like an attacker. If he scores 20 goals, we only remember him. For goalkeepers, it's the same. The statistic belongs to the team. 
"We've done a great job since coach David Guion arrived [in summer 2017]. Last season, we also kept a lot of clean sheets. We're continuing to do what we did but at a higher level, so it's very positive."
Mendy spent a year out of the game as a free agent before joining Marseille in 2014 and then subsequently Reims in 2016, and says that he is increasingly setting himself new goals after his strong start.
"I'm going step by step," he said. "The longer the season goes on, the more goals I set myself. I must continue to gain experience and to be the best player for my team. I must always push myself.
"I wouldn't say I surprise myself because I work to be successful each weekend. If I didn't work during the week, I'd say I'm a thief and I don't deserve what's happening to me, but that's not the case.
"I work hard to be successful. When I am, it's good and I'm happy. And when I'm not, I'm disappointed. I put it behind me quickly and get back to work so it doesn't happen in the next game."
One of those disappointments came in a 5-0 loss against PSG, when he was criticised for his poor display.
"The mistake was human," he said. "There were two solutions: either I could lose my head or I could take the game as an apprenticeship for playing at the highest level, which is what I did. It's about learning, you have to be open and learn from your mistakes."
Reims face Marseille on Sunday as they seek to cement their place in the top half of Ligue 1.